Bill Langford
Head Coach
Hi, my name is Bill Langford. I was born in California, although I spent my early years growing up in Richardson Texas, a small town just outside of Dallas. Growing up in the country as a young boy, I was infatuated with any two-wheeled motorized bike. I could ride for days in the Texas hills chasing armadillos, jackrabbits and cows.
After high school I joined the Navy and spent 5 years on Nuclear Submarines and Special Ops. Returning from the service I moved back to California and graduated from Cal State University, Long Beach. I own a design and manufacturing business in the sports industry called TRI ALL 3 SPORTS. We manufacture hard-shell cases for the transportation of racing bikes and racing wheels. We also make cases for Homeland Security and Special Ops. I am an avid cyclist and IRONMAN Triathlete. My wife Barbara is also an IRONMAN Triathlete and motorcycle enthusiast. We enjoy camping in our Sportsmobile, Photography, and target shooting.
I love motorcycles and have a number of BMW's and Ducati's. Riding a BMW or a Ducati on a racetrack will certainly get your adrenaline going. However my real passion is for Adventure Riding, exploring the backcountry on dirt trails, enjoying the beauty of our country that you don't see from a concrete highway. I have ridden all over the western part of the United States and Baja, including the Continental Divide from Mexico to Canada with Jim Hyde.
I met Jim Hyde in 2006 and joined his team in 2007. Our goal as Coaches at RawHyde is help you to develop the skills and confidence necessary to take you out of your normal comfort zone. To challenge you to take the journey that separates those who are only bystanders in life; to those who truly participate and explore the riches of life.
Rob Glass
Raised in the oilfields and basketball courts of Southern Illinois, I migrated to Nashville, Tennessee to attend college. Graduating second (from the bottom) in my class, I was a well known regular at Rotiers, Printers Alley, The Exit-In, and various early 1970's Nashville scenes.
Perhaps, my questionable academic performance was due, in part, to the purchase of my first motorcycle – a Penton 125. That, and the fact that it WAS the 70's, had a way of setting certain priorities for me. If you catch my drift. I married, settled into an acceptable lifestyle. In the early 1980s I moved to Asheville, North Carolina becoming a semi-respected member of the academic and administrative community of Warren Wilson College.
My younger adrenaline fueled adventures included motocross, downhill skiing, skydiving, SCUBA diving, rock climbing, and white-water rafting. Eventually, as happens with most adults, I settled into mid-life responsibility and became a marketing and communications guru of sorts, I established the consulting firm of Glass & Gold, Inc.
These days I'm a motorcycle gypsy whose home is wherever my 2006 GS1200 is. I and my bike hang out full-time at RawHyde now where I'll engage you on the phone, via emails, on the training courses, and sometimes on a tour. I enjoy helping folks take the steps needed to improve… in riding or in life. Almost always positive, an authentic encourager, you'll find me working with folks needing a helping hand.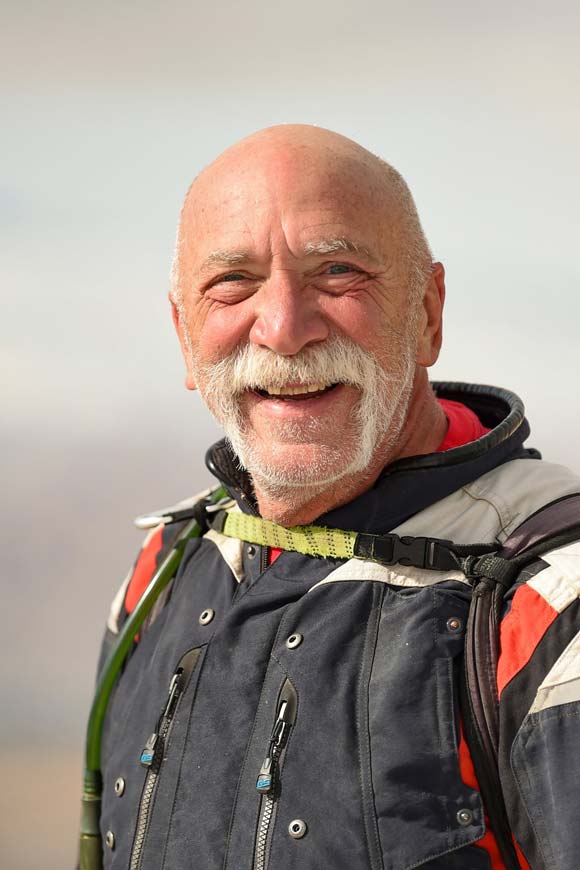 Owen B.
Hi, I'm Owen B.
I've been riding BMW Motorcycles exclusively since 1979.
I have been in the industry since 1981.
I've been involved with RawHyde Adventures since 2009.
I am currently a Senior Coach and tour leader for RawHyde Adventures. Come take a trip with me! It's all about having fun!!
I have been the General Sales Manager of three different BMW Motorcycle stores.
For two years in a row I was the top volume salesman for BMW Motorcycles in North America.
And, it's all about the GS and Adventure Lifestyle!!
Cheers,
Owen
Chris Zurn
Hi folks!
A little about myself... I live in Orange County, CA with my beautiful wife and three lovely kids. I'm a former executive in the Financial Services industry.
I had been street riding and touring since 1989. During those years, my inner voice often whispered to me as I looked down stretches of dirt, wondering where they would take me. 10 years ago, that same inner voice told me "Get into adventure riding!" I heeded the call, purchased a 1200 GSA in late 2010 and never looked back. I've been infectiously promoting RawHyde and this sport since 2011.
Today, you'll find me coaching the 'Intro to Adventure' and 'Intro Plus' courses. I have also led or supported many of our epic tours. My favorites are the Continental Divide and Expedition CV.
My mission is to share enthusiasm, skills and helpful information with riders whenever possible. As they say, "Four wheels move the body, but two wheels move the soul."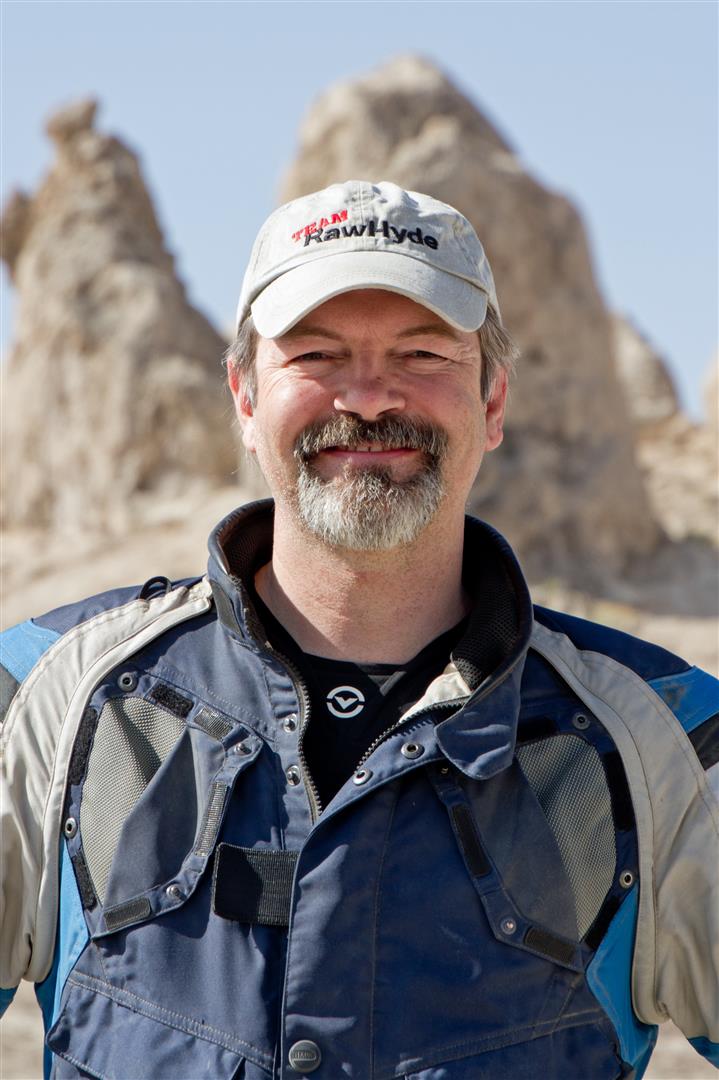 Trev Richter
My name is Trev Richter. I am from Ft. Collins, CO and have lived there since 1982. I own Colorado ADV Moto and have been a carpenter for most of my life.
I have been on 2 wheels for most of my life, from BMX as a kid, and motorcycles from my teenage years until now. I have always wanted to combine my passions of camping, travel, and motorcycles, Adventure Riding has done that! It's amazing how many people approach you when on a bike. In my opinion, it's the only way to travel!
I have been a coach and tour guide for Rawhyde since 2014. I have met a lot of great people, made some very close friends, and have LOVED every second! It is an honor to be able to help someone improve a skill, or get past a fear. See you on the trail…
Erin Sills
Hi friends, I'm Erin and I started riding later in life than many. Since 1999 I've been primarily a sport-touring rider, logging over 350,000 miles across the high deserts of California, Nevada, Utah and the Great Southwestern US. With a genetic pre-disposition towards "loving speed", I began land speed motorcycle racing in 2004 on the Bonneville Salt Flats. With over 20 World and National Speed records under my belt, I came to RawHyde in 2016 to learn how to become more comfortable with motorcycles moving around under me on unstable terrain like dirt and salt. I'm extremely grateful for my fellow coaches who enabled me to quickly move from student to coach. I credit off-road riding for improving my land speed racing to where I am now a lifetime member of the Bonneville, El Mirage, and Mojave 200 Mile-Per-Hour Clubs with a top speed (so far) of 219.3 MPH. At 5' 7" and 125 pounds, I want to demonstrate that smaller stature people – male or female - can confidently maneuver the 600 pound BMW GS 1200 in adventure conditions. I dedicate my coaching, riding and racing to my late husband, fellow land speed racer Andy Sills. Thank you, fellow motorcyclists, for continually reminding me that "it's about the journey, not the destination." I look forward to riding with you!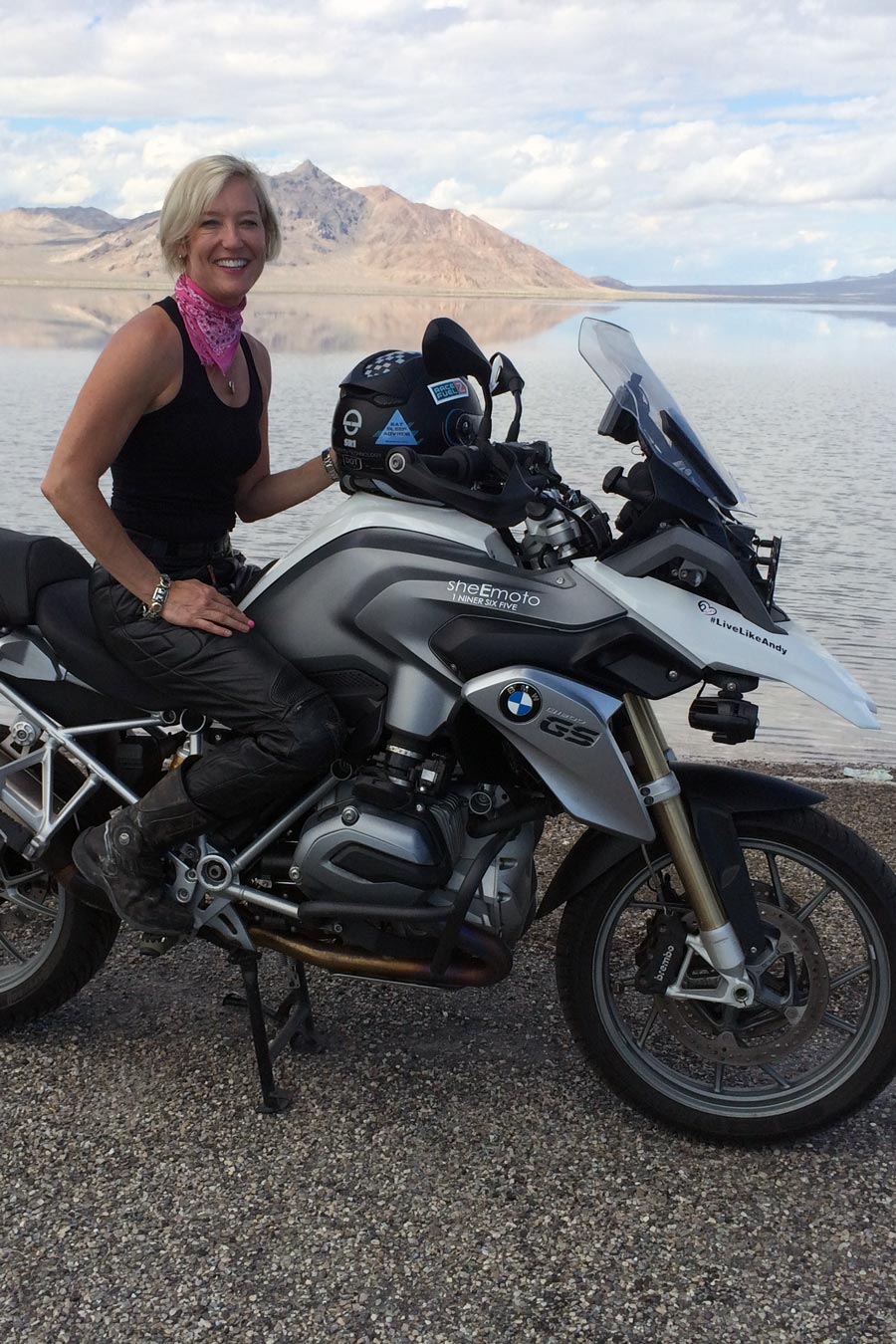 Bob Haines
Hi, my name is Bob Haines. I grew up in Illinois, working on my Grandfathers farm. After high school I enlisted in the US Army serving in the Light Infantry. After an awesome career and numerous deployments overseas to some not so friendly places I retired in Colorado Springs, CO. When I'm not riding my BMW GSA on some mountain pass or getting roosted by my son on dirt bikes I serve my community as a firefighter for the CSFD. Like most of you I started as a student with Rawhyde in 2016, I came away from that incredible weekend with a longing to ride my motorcycle to the ends of the Earth. Early in 2017 I started as a coach with Rawhyde teaching the "Intro to Adventure" course as well as supporting some of the tours that Rawhyde offers.
Rawhyde to me is so much more than just instruction and drills. It is a place where people connect and friendships are forged. A place where your story is appreciated and your successes and failures in training are celebrated.
My other interests are chasing adventure as much as possible through mountain biking, climbing, (rock and ice) hiking and slowly ticking off the list of Colorado's 14,000 ft peaks.
I look forward to riding in the dirt with you.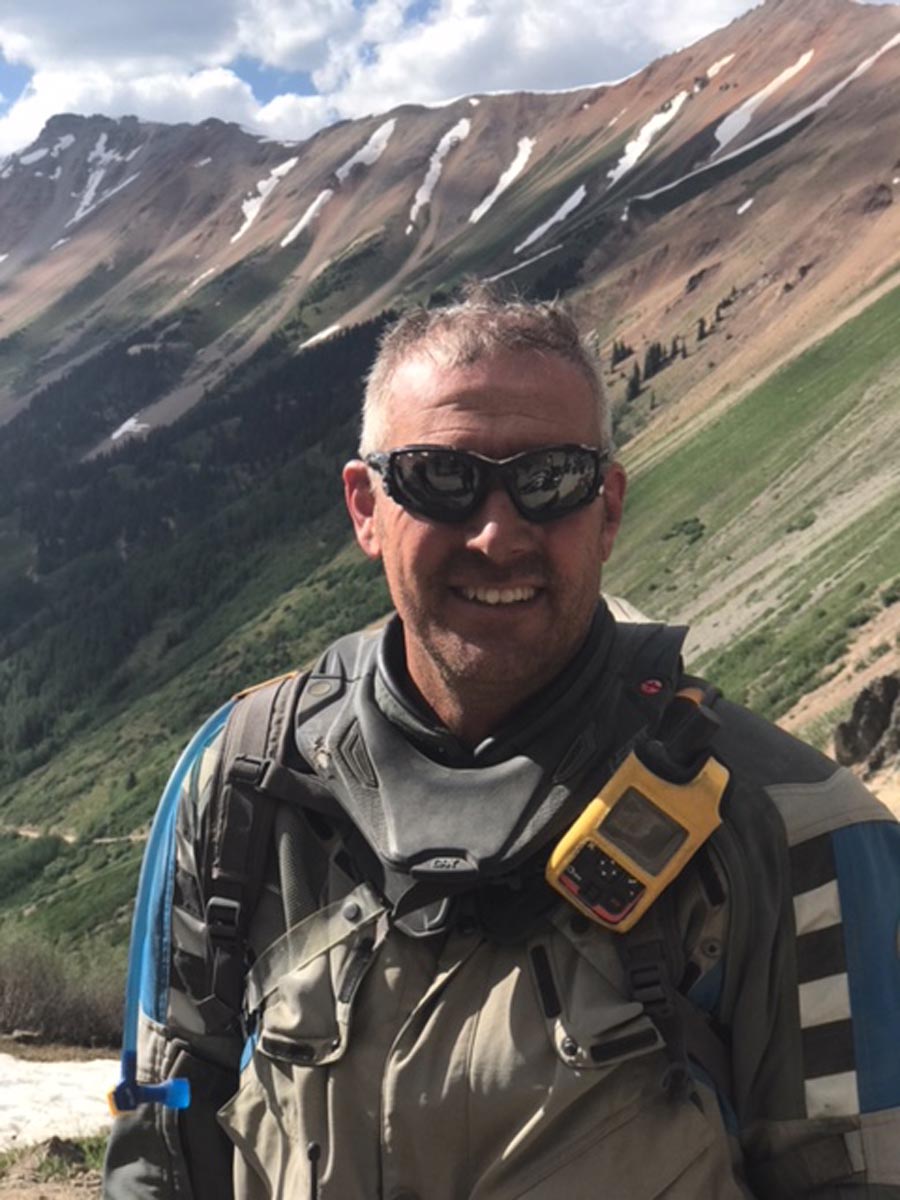 J.J. Puglisi
Hi, my name is J.J. Puglisi. I fell in love with and began riding motorcycles over 25 years ago. I have a law enforcement background, and one of the highlights of my career was riding a police motorcycle alongside the officers assigned to traffic enforcement. Completing motor school was a rewarding, yet humbling experience that further ignited my passion to develop my riding skills. Thanks to an understanding wife, and a co-worker and friend with similar interests, I was blessed with the opportunity to do just that, but on a big adventure bike, off-road. The best thing about this sport is the joy of sharing it and its challenges with others. I get great satisfaction not just in instructing, but in helping to add more members to the adventure riding family. That is what the RawHyde experience is truly about. See you on the trail!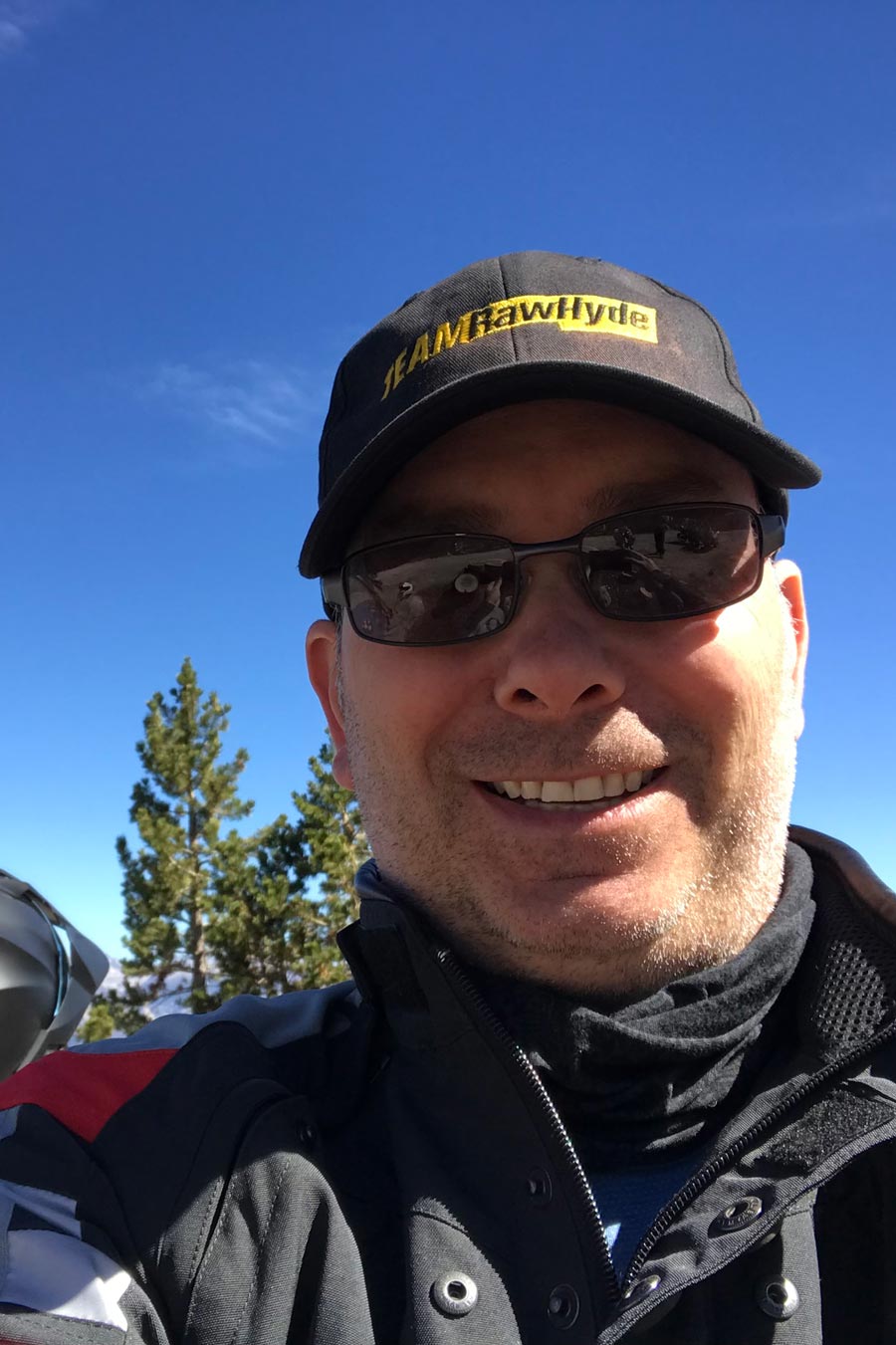 Robert Montero
Hello fellow adventurers, my name is Robert Montero and I am one of RawHyde's newest coaches. I am a native of Phoenix, Arizona and still reside there.
Upon graduation from high school I joined the Army and spent the next eight years as a Combat Medic. As a medic I was assigned to a Mechanized Infantry Battalion, Forward Support Battalion, and a Ranger Battalion. Following that I switched services and joined the Air Force, where I served as a Medical Technician, Information Management NCO, and a member of Security Forces. I retired with a total of 22 years of service. While serving my country I was deployed several times to the Middle East (the sand box), and I obtained an associate degree in Information Management, Criminal Justice, and a Bachelor of Science degree in Management.
I purchased my first bike in June 2011 which was a KTM 950 Adventure. After many rallies, trail rides, and coming close to death more times than I care to admit. I realized I needed some training! So, in July 2015 I attended RawHyde's Intro Class with Base Camp Alpha. I was instantly hooked on the training, the camaraderie, the people, and the kindness the staff showed as they helped each other. I returned for Next Step with Expedition CV and then purchased my first BMW R1200GSA. Today I own a 2016 BMW R1200GSA and 1997 Suzuki DR350.
When I'm not teaching or on a tour, I enjoy overlanding, mountain biking, backpacking, shooting, and most of all, challenging my riding skills on the GSA off road! I look forward to seeing you and helping you reach your training goals.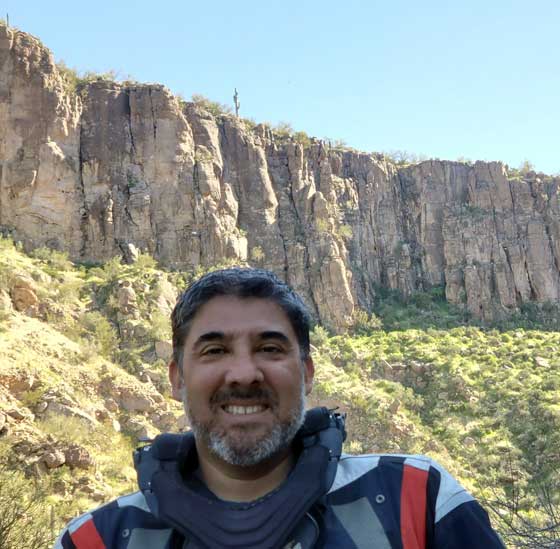 Eric Sachs
Hi my name is Eric Sachs. I was born in Hollywood, CA and have lived in Southern California ever since. I became a police officer at the age of 21 and was given the opportunity to serve the public in that capacity for 10 years.
I got my first motorcycle at age 17 and have been on two wheels ever since. In 2015 I bought my first BMW Adventure bike but was terrified to take it off-road. I found RawHyde Adventures in 2016 and learned the basics of adventure motorcycle riding in my first "Intro" class. I fell in love with the sport and attended several of RawHyde's training classes and tours over the next year or so. The amazing training and instruction at RawHyde ultimately paved the road for me to become a coach!
Today, as a coach at RawHyde, I am afforded the opportunity to serve and to share my knowledge and love of ADV motorcycle riding with our customers. I coach our Next Step, Intro +, and Intro to Adventure curriculums. I am a WFR (Wilderness First Responder) and frequently act as the "sweep rider" for our Base Camp Alpha tour.
I live in Newbury Park, CA with my wife, 4 wonderful children, 2 dogs, a cat and a guinea pig. I'm looking forward to meeting and riding with you all.
Jon Berry
Hello all. My name is Jon Berry and I was born and raised in Southern California, the son of a Los Angeles Police Department motor officer and Registered Nurse. I became involved with motorcycling literally at birth, riding many varieties of dirt bikes from the age of 5, and street bikes from the age of 18. I have been coaching at RawHyde since 2019.
After high school I joined the Air Force and had the distinct pleasure of serving 33 years in a variety of leadership, staff and command opportunities, retiring in October 2020. Since then, I have transitioned to my current role as the Director of Business Development for Air and Space Force Aviation with FLIR Systems, where I facilitate detection and sensor capabilities for the US military and our allies. As a motorcyclist, the Air Force afforded me the opportunity to live and ride all over the world, my favorite being Western Europe and the Alps, but my heart is forever linked to the majesty of riding the deserts of the southwest. I retired to Prescott, Arizona where I live with my wife, two sons, two dogs and various other critters, which affords great local riding, and access to both RawHyde locations.
Motorcycling is my passion and has been for many years, but sharing my passion with like-minded people is my favorite aspect of the sport. I currently ride a BMW 1250 GSA, Triumph Thruxton, a variety of KTMs, and two Hondas. The sensations of riding and its experiences are visceral, and I truly love seeing what the next turn or trail brings. Being a RawHyde coach is a phenomenal opportunity, particularly getting to witness and contribute to the growth and confidence improvement of our clients; I am truly inspired, and gain great satisfaction watching riders reach and exceed their goals. Additionally, being a part of the RawHyde team means I get to help break down barriers and remove preconceived notions about rider training and what it entails. We all have something to learn, and what better place to experience it than with fellow enthusiasts?
I look forward to seeing you at camp, on one of our excursions, or somewhere on the back roads. Let's ride!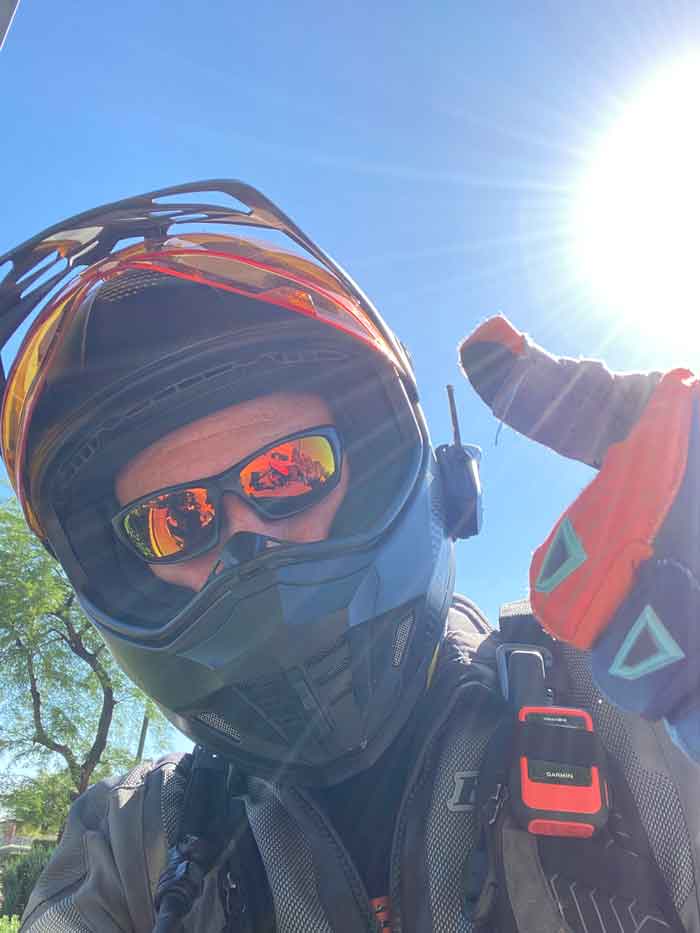 Bob Hyde
My name is Bob Hyde (no relation to Jim, except our love for motorcycles). I was born and raised in Ohio, but have lived In Lake Havasu City Arizona for 15 years. I have had a few jobs over the years but am now a motorcycle test rider for Harley Davidson. My job at Harley sent me to RawHyde Adventures, where I fell in love with the Adventure bike off road life style. I have ridden motorcycles for over 50 years (mostly off road) but now have a BMW GSA and plan on racking up the miles on it. Some of my other interests are hiking with my dogs, jet skiing, wake surfing or anything outdoors or water related. I look forward to coaching for RawHyde and helping students tap into their off road ability's.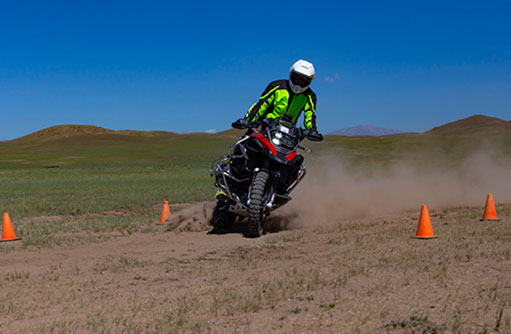 Gina De Pasquale
Hi everyone! Welcome to the world of Adventure Riding. I've been coaching at RawHyde since 2017 and I can't tell you how valuable, fun and life expanding the training and community is here at RawHyde Adventures!
I was born and raised in Westchester County, New York. I frequented various racetracks in my youth watching my dad race cars. At age 4 he started giving me mini bikes. My 4th bike was a Yamaha GT80 that he pulled out of the junk yard and gave me for my 12th birthday, I still have it! In 1990 I followed my life-long dream of moving to California and got my second degree in Interior Design at San Diego State. I spent a few years riding a Honda 400Four before honing my riding skills on a ZX9 Kawasaki and other sport bikes in the canyon and racetracks of southern California. Back then it was unusual for a woman to be riding the big bikes around! Outside of official training, the best teachers are more experienced people with whom you ride, follow and learn from.
In 2001, after a year of leading cross country tours for Edelweiss Tours, I became a product specialist and ride leader for BMW events and press launches. This was the start of my long standing relationship with BMW Motorrad. I've spent nearly two decades working at car and motorcycle shows, events and open houses. In 2004 I opened Long Beach BMW Motorcycles, became a top salesperson and apparel specialist, and bought the '05 R1200GS I still ride today. This is where I first met Jim Hyde. My first real stab at adventure riding was spent at a training weekend for dealerships. 2007 I enjoyed working as Retail Center Manager at BMW of Las Vegas and later in 2015 opened Mamba Motorsports in Santa Clarita. This reconnected me to RawHyde Adventures and the now exploding world of adventure riding. After my first training I was hooked!
I am thankful to Jim for making me a coach as I enjoy being a role model for women and inspiring riders everywhere! My favorite part of RawHyde is that fact that I get to meet new people whom I love teaching, sharing tips, knowledge and experience. Working with my friends old and new is not like working at all and expanding my network of adventure friends near and far is rewarding and priceless. When I am not coaching at RawHyde you can find me designing and landscaping, at BMW press launches, carrying a photographer for photo-moto, rescuing cats and dogs and traveling abroad as much as I can. I look forward to meeting and riding with all of you and adding tools to your toolboxes. There's a lot of world out there to see people, let's go for it!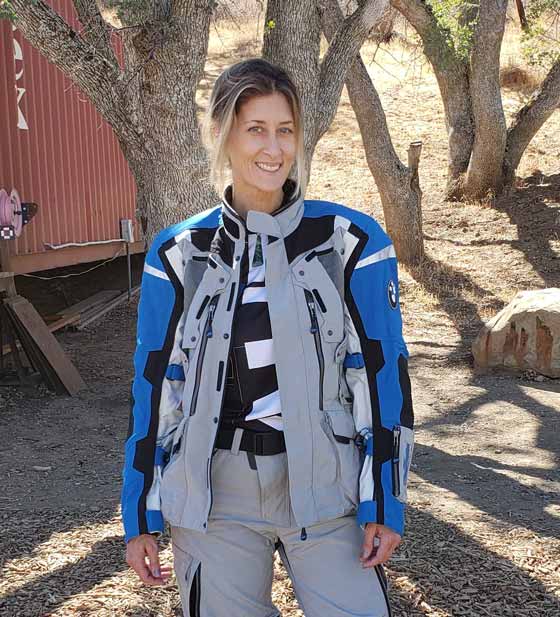 Andy Lehman
I was born and raised in southern California where I grew up riding dirt bikes. My teenage summers were spent as a ranch hand and wrangler in Montana. For 41 years I worked as a general contractor. I have enjoyed many trips to the desert, passing along my love of riding to my children and grandchildren.
I love riding my GS across the country, completing trips from southern California to the east coast, Alaska, and Canada. I have also ridden to Montana many times, a place I consider my second home. I enjoy spending time with my family; snow skiing with my wife, hunting with my kids, off-roading with my grandkids, and of course riding motorcycles with all of them. My coaching with RawHyde has put my passion for motorcycles, appreciation of America's geography, and helping others all into one adventure.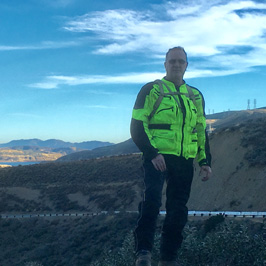 Bill Bergman
RawHyde Off Road... Simply the best experience thus far on my bike. Why? Here are a few reasons. Read more.
Bill Bergman
RawHyde Off Road... Simply the best experience thus far on my bike. Why? Here are a few reasons.
You can use your own bike EVEN if it's not a BMW. This was huge for me since I ride a Triumph Explorer XC and wanted to use it for training.
All inclusive. Once there my lodging and food (I'll talk about the food later) were included in the price.
Customer Service. From the start they make you feel welcome. Once there the level of service is legendary.
Training. They really shine here. The approach taken is to tell you to do "this" or "that" with your bike. This keeps you focused on the task and not thinking about doing it wrong.
Food. No trip to RawHyde would be complete without commenting on the food. This is not your typical "The was hot and there was plenty of it" kind of place. While this statement is true, one word description is "awesome". Breakfast was a buffet style affair. Lunch was a box lunch that would put most dinners to shame. Dinner was a 3 course meal complete with wine served to us by the RawHyde staff.
These are a few of the reasons I recommend RawHyde. I would also recommend a trip like the High Rockies Adventure after training to practice your new skills.
Thanks for reading.
Bill Bergman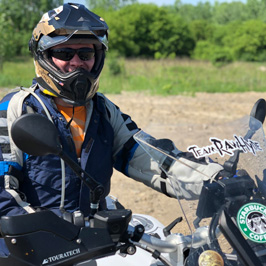 Mats Ceder
I have attended several training classes and events at RawHyde. It reminds me of camp when I was younger. Show up Friday, put away my car keys and my wallet, and enjoy the weekend. Everything is there already arranged for you... Read more.
Mats Ceder
Chicago, Illinois.
I have attended several training classes and events at RawHyde. It reminds me of camp when I was younger. Show up Friday, put away my car keys and my wallet, and enjoy the weekend. Everything is there already arranged for you including bike, food, lodging and the great Dakar Bar! The opportunity to hang out with a bunch of riders around the campfire in the evening, discussing the ride experience from the day, is a great ending before heading to bed.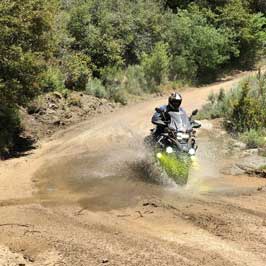 Scott Wachs
I just wanted to take a minute to let you know last weeks Base Camp Alpha experience was just incredible. First of all the modification due to weather was brilliant, the ground we covered was beautiful and challenging but not overly intimidating. Read more.
Scott Wachs
Coulterville, CA..
I just wanted to take a minute to let you know last weeks Base Camp Alpha experience was just incredible. First of all the modification due to weather was brilliant, the ground we covered was beautiful and challenging but not overly intimidating. Arrival Sunday night I felt like I was being greeted by old friends or like I was coming home. Thats the overview, totally satisfied.
Now a couple details, your staff, all of them so far are nothing short of amazing, they really don't make me feel like some client with a bunch of money there to pay to have a good time. Your staff makes me feel like I'm part of something bigger and I really enjoy the whole experience. I have now had the opportunity to work with six of your coaches, they are all a little different as they are all individuals but they are also 100% first class highly capable instructors, being a good rider is difficult but teaching it is a whole other level of difficulty. I'm very impressed.
I had the the opportunity to ride Tuesday with Jeff And Barty, it had to be one of the greatest rides of my life. I felt really challenged but I never felt intimidated or in any serious danger, just right at my limit but not to the point I felt I was going to get in trouble. I really like those guys and we became friends which is special to me because I'm sort of a lone wolf and making friends doesn't come easily to me. I also made a couple new friends with other clients and I am probably going to ride to the Grand Canyon in September with one of them who will be picking up a bike from you, (Rob).
Thanks for all you do !!
Mylan Cohen
I just want you to know the incredible positive impact that you, your company, and your team has had on my life, Maya's life, and potentially our family as I've now encouraged our son to start riding. We intend to come back as soon as possible as a family... Read more.
Mylan Cohen
Cape Elizabeth, Maine.
I just want you to know the incredible positive impact that you, your company, and your team has had on my life, Maya's life, and potentially our family as I've now encouraged our son to start riding. We intend to come back as soon as possible as a family to attend training together. You have an outstanding organization. Your leadership, ability to assemble an outstanding team, create a fun, challenging, positive, and rewarding environment, and offer an exceptional customer experience is incredible. You inspire people to live life to its fullest.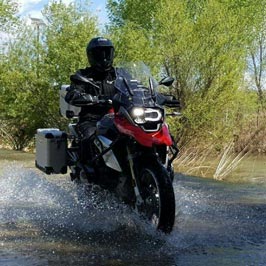 David Haydock
Anyone that asks about my bike or talks about getting an adventure bike, I say two things... Get a BMW and go to Rawhyde, both of which are worth every penny! I then go on and on about the feeling of satisfaction being able to ride obstacles I would have never thought possible. Read more.
David Haydock
Cambria, CA.
Anyone that asks about my bike or talks about getting an adventure bike, I say two things... Get a BMW and go to Rawhyde, both of which are worth every penny! I then go on and on about the feeling of satisfaction being able to ride obstacles I would have never thought possible. And I have to rave about the fantastic food, fun atmosphere as someone who lives on the Central Coast of California, I have to let them know that Rawhyde even has an appreciation for good wine! Who could ask for more? BMW motorcycles and Rawhyde go hand in hand! They have both enriched my life immensely.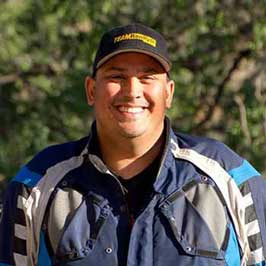 Jeff Camacho
It was a great event. So many talented riders from all over the US came to RawHyde Adventures for the 2015 GS Trophy Challenge West Coast Qualifiers. I was lucky enough to work with this amazing team.
Daniel Schneider
Thank you all for the awesome Intro Course last weekend. Great bunch of instructors and staff. I'll be back! I also want to thank you for making me think hard about upgrading to a 1200!
Talk to our Rider Advocate
Here at RawHyde Adventures we believe in actually having a conversation with people that are interested in our programs so please call us if you have the time. If you reach our voicemail; please leave a message and we WILL return your call promptly. Please Note: Occasionally we have programs that require the service of our entire staff and take us far beyond cell range, and thus it may be a day or two before we can return your call, but rest assured we will do so as soon as possible.
Even though we'd really rather talk to you in person.. email is sometimes necessary so - email if you must but call us if you can, we'll be delighted to answer your questions. If you do not receive a response to your email within 2 business days; please call. If we are out of the office (as stated above) we will contact you as soon as possible.
Thank you.