Utah Backcountry Discovery Expedition
Utah Backcountry Discovery Expedition
The Epic Ride
Welcome to RawHyde's discovery series ride on the Utah Back Country Discovery Trail. This epic ride is truly one of the most adventurous and beautiful rides available in North America.
The Utah Backcountry Discovery Trail … RawHyde Style. This 6 day ride is slightly different from the official UBDT since it takes into account the simple logistics of how to start and end a tour like this in a manner that makes sense for most folks. The official UBDT begins and ends at obscure locations that are at least a full day's ride from a major airport – So RawHyde's version of this epic ride begins and ends at points that have both an international airport as well as shipping and receiving locations for motorcycles.
Las Vegas is our start point and Salt Lake City is the end point for this years Utah Backcountry Discovery ride. We have made arrangements with BMW dealerships in both cities to offer shipping, receiving and priority maintenance services for our customers who wish to ship their own bikes (of any brand) to or from either end of this tour. This is an "all hotel" tour supported by a luggage van and two RawHyde staff members.
Price:
$3,995 on your own bike
Rental bikes are available
Dates:
RawHyde
Utah Backcountry Discovery Expedition

schedule:
Las Vegas, Nevada
We'll all congregate at the Silverton Casino on the southern outskirts of Las Vegas. The Silverton is centrally located to both McCarran Intl Airport and the BMW dealership in town. It also has a large onsite parking area for our trucks and is perfectly situated for our morning departure toward Lake Meade.
Las Vegas to the Bar 10 Ranch
Las Vegas to the Bar 10 Ranch situated on the North Rim of the Grand Canyon in an unbelievable setting. Today's ride takes us from the Silverton and out of Las Vegas through the scenic Lake Meade Recreational area and Valley of Fire state park. We'll have a short jaunt up I-15 to St George, Utah where we'll take a 70 mile meandering dirt road down to the north rim of the Grand Canyon and the Bar 10 ranch.
Bar 10 Ranch to Monument Valley, Utah
We'll leave the Bar 10 early as today is a long but stunning day. The first 50 miles are two track jeep trails as we head toward Fredonia Arizona. We'll hit the pavement at Fredonia and begin heading for Monument Valley Utah. Monument Valley is one of the most remarkable sites on earth where giant pillars of stone rise high above the valley floor in the heart of the Navajo nation. We'll spend the night in Mexican Hat at a quaint little motel situated next to the San Juan River which is one of the major tributaries to Lake Powell.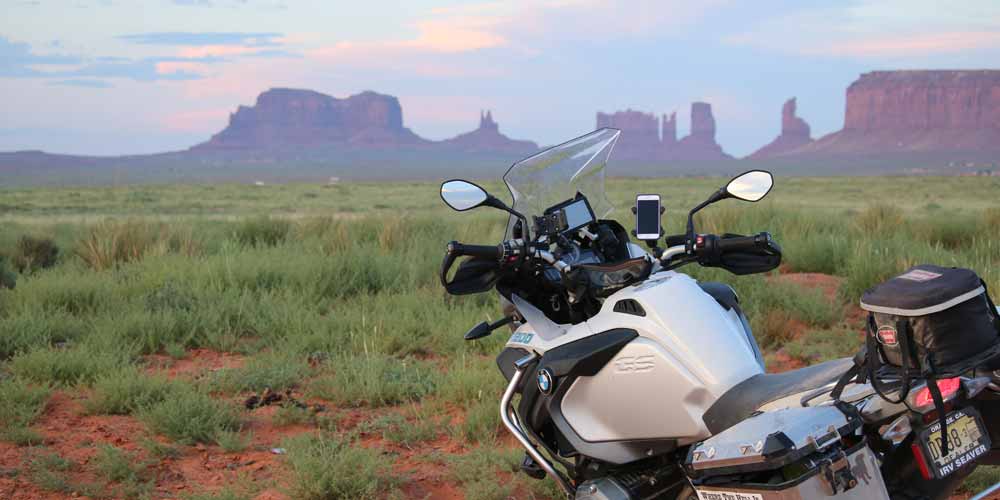 Mexican Hat to Monticello, Utah
Today's ride goes from Mexican Hat to Monticello Utah through both the Navajo and Ute indian reservations and some of the most remote and desolate parts of Utah. Today's ride is "classic Utah scenery" tabletop mountains, red sandstone cliffs and slickrock everywhere.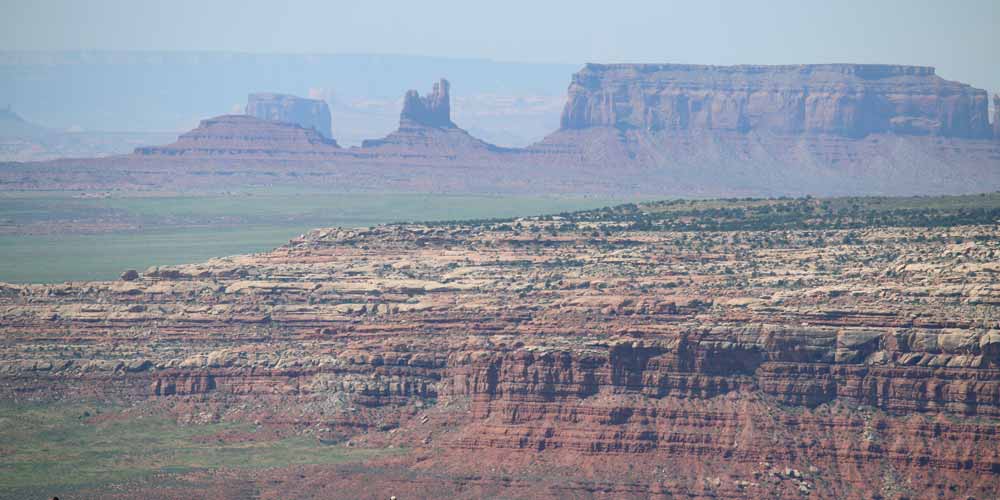 Monticello to Moab
Today is our shortest days' ride, and the reason is that the scenery is simply epic and we'll be stopping frequently to take pictures and soak it all in. We are heading for the epicenter of adventure in America which is… Moab! Moab, Utah is situated in the heart of "slickrock" country. The trails are solid rock and the scenery is nothing short of amazing. Moab is a Mecca for powersports because there are hundreds of miles of roads and trails that take you to some of the most beautiful places on the planet. We'll get into town early in the day so as to give you plenty of time to explore this adventurers paradise. This is the most beautiful days ride on this trip… be prepared to take lots of pictures today.
Free Day Moab
Moab is one of the greatest adventure zones in the United States with an amazing array of things to do. Ride along the twists and turns of the Colorado River, or enjoy the stunning vistas in any of a dozen locations. Perhaps a ride out to Chicken Corners where the movie Thelma and Louise wrapped up with their famous plunge over the cliff. Moab is an adventure rider's paradise and you'll find there isn't enough time in the day to enjoy it all. (You'll just have to come back.)
Moab to Salt Lake City
Today's ride is one of the most varied (and remote) of the trip. From the Slick Rock of Moab to the desolate plains east of Salt Lake this is a great day of riding. We'll head north through a couple of large cattle ranches, over high mountains, through babbling streams and we'll finish the official tour when we hit Salt Lake. Our hotel is close to the airport for an easy departure on Saturday morning!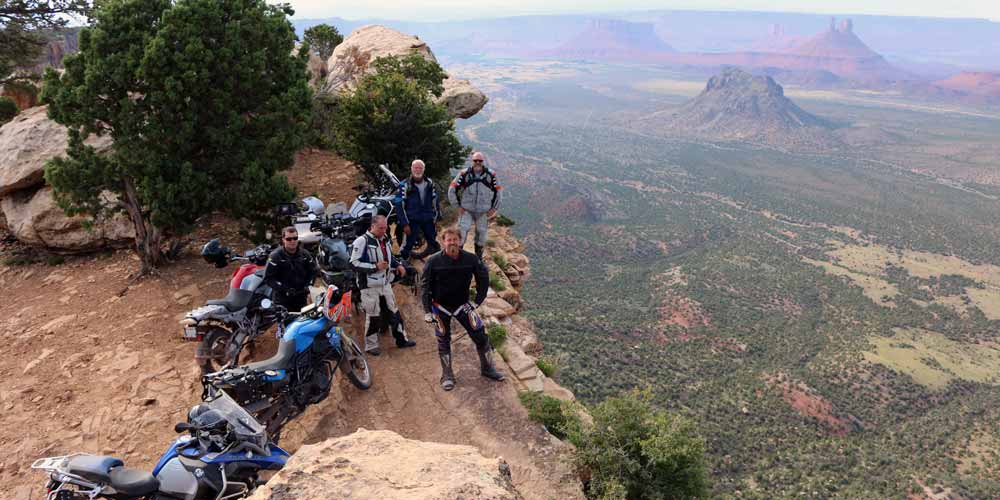 Departure
We sadly part company and head for home with knowledge that there are lots of other adventures still to be had. RawHyde will help with shipping arrangements, shuttles to the airport or whatever other tasks need to be accomplished to help you on your way.