Journey To The End Of The World Patagonia
Patagonia - 2024
RawHyde's Journey to the End of the World
Patagonia! The word alone evokes an image of adventure. AND Patagonia is quite literally the end of the world! It's a place where the South American continent peters out into islands, canals, inlets and fjords at a point where the Atlantic and Pacific oceans unite. The region is vast and covers over 60,000 square miles of land in southern Chile and Argentina, most of which is too wild to be inhabited. Untamed open plains, dramatic mountain groups, active volcanoes and colossal glaciers line the horizon.
Furthermore - Patagonia is one of those places that everyone has heard of… yet most folks haven't gone and here at RawHyde, we'd like to change that because if you're an Adventure Rider; Patagonia has absolutely everything you could ever ask for. It's raw and civilized at the same time, it's pristine and has one of the highest percentages of amazing National Parks of any place in the world. It's also very safe at a time where much of the world is in turmoil.
The culture of the region is fabulous too - South America's finest wines, tastiest barbecues, wildest rivers and bluest glaciers unite at the continent's tip as the mainland dwindles into tiny islands. Patagonia is also home to vast estancias (ranches) that continue to serve as the centers of culture and hubs of civilization in the midst of some of the most remote and barren regions on the planet! (We'll stay at one of these remarkable enclaves as we travel this route.)
Our adventure will begin in Mendoza, Argentina which is in the relaxed center of Argentina's wine country! From there we'll ride south along the base of the Andes mountains till we enter Chile, then we'll head south down the incredible Carretera Austral through the Volcano and Lake districts of Chile before jumping back into Argentina on some of the most incredible dirt trails in the Andes.
We'll stay at fabulous hotels, (best available) and we'll enjoy the famous "Parilla's" of both Argentina and Chile. Parilla is a word that defines a grilled meal, and it is much more than a BarBQ… It's a celebration of life in a way that only the Patagonians can provide!
Price includes a base model BMW GS (F700)
Dates:
Schedule
RawHyde's Journey to the End of the World - Patagonia 2024
Mendoza, Argentina
Arrive at a beautiful winery in Mendoza, Argentina for dinner and orientation. Bodega Salentein is world renowned for its Malbec wines and is a wonderful location from which to begin our Adventure in Patagonia.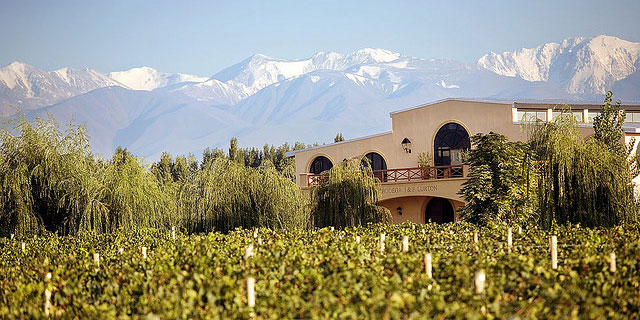 Mendoza to Malargue
Our adventure begins as we travel south to the town of Malargue located about 250 miles south of Mendoza at the base of the mighty Andes Mountains. Today we'll have the chance to ride the back country on on some of the roads and trails used by the famous Dakar Rally.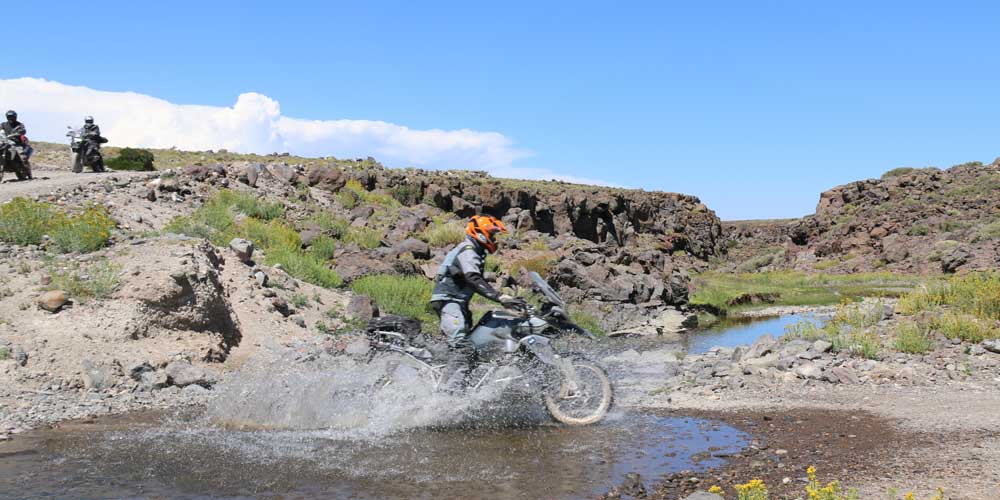 Malarque to Linares region, Chile
Today we'll leave the arid landscape of central Argentina and head into the lush green central valley of Chile in the Linares region. Today will be our first of many border crossings on this trip, and we'll learn the 4 step process of moving from country to country. (imagracion and Aduana will become natural words to you as we travel)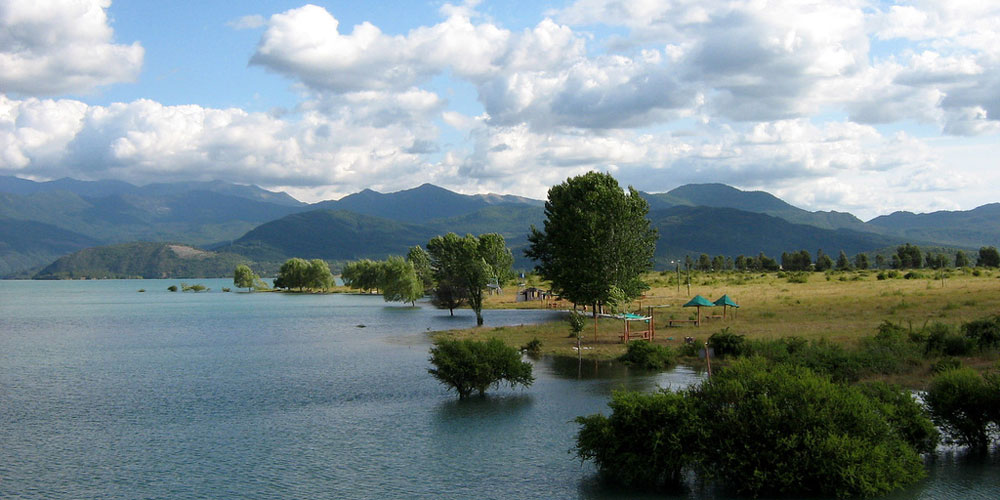 Linares to Temuco
We'll leave our hotel in Linares and head south through Chile's central valley toward the incredible lake district. We'll ride the famous Pan American Highway today and will end up at our hotel in Temuco Chile.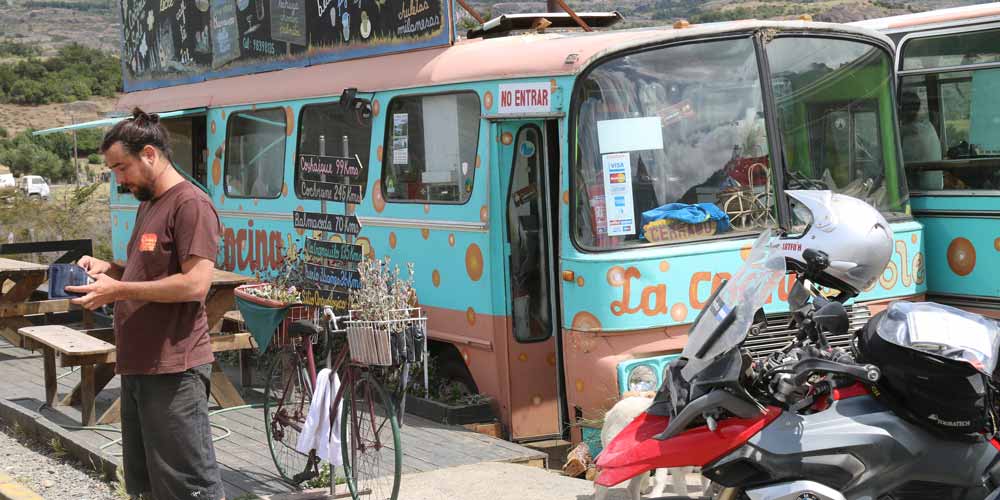 Temuco to Huilo-Huilo
Today's ride is spectacular. We enter the lake district and one of the most pristine forest habitats on earth. You'll ride on remote trails amongst thousand year old trees and our highlight of the day is arrival at one of the most unique hotels on earth. Click the link for details.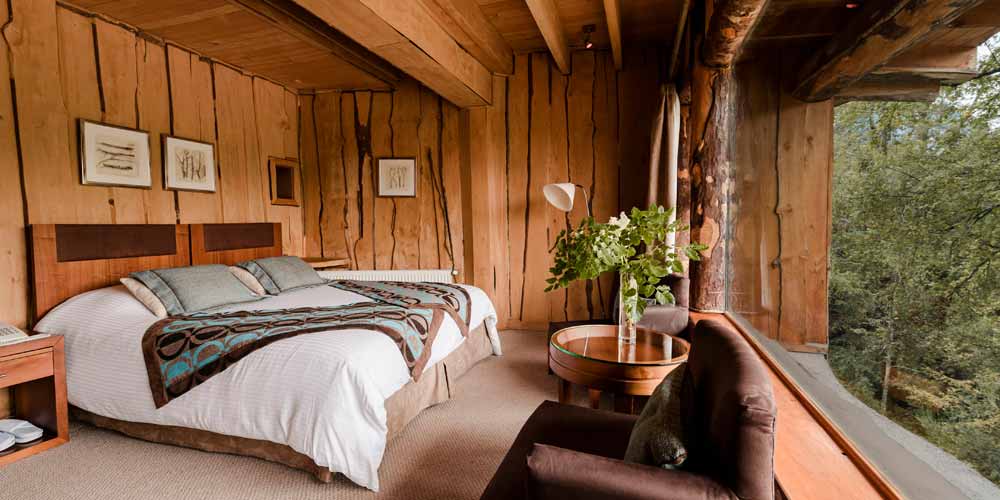 Huilo-Huilo to San Carlos de Bariloche, Argentina
Our day begins with a picturesque ferry ride which leads us back to Argentina and to the wonderful city of San Carlos de Bariloche. This alpine style city sits on the shores of Lake Nahuel Huapi with the snow capped Andes as a backdrop. Spanish influence in the area dates back to the late 1600's when Jesuit priests created a presence in the area.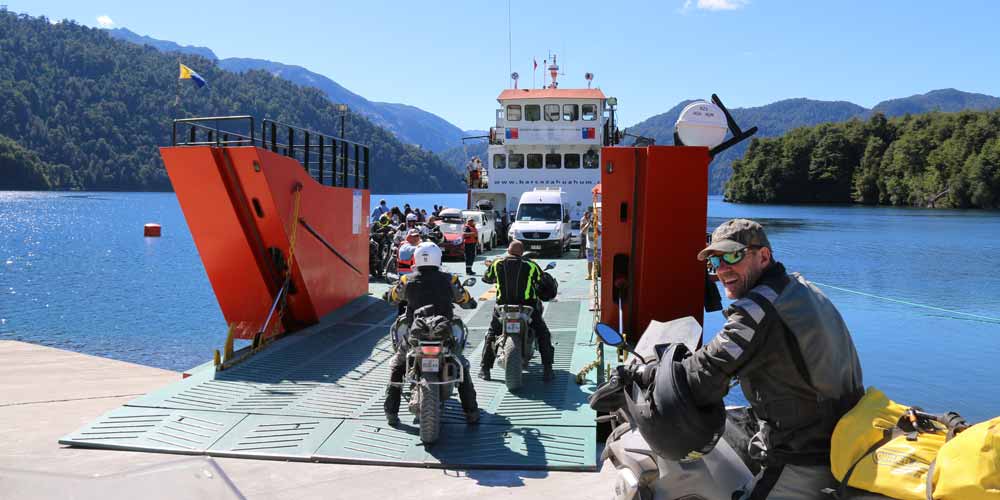 Rest day in San Carlos de Bariloche
Today we'll relax a day and either ride out to explore the area… or drift into town for a leisurely lunch at one of the many wonderful restaurants.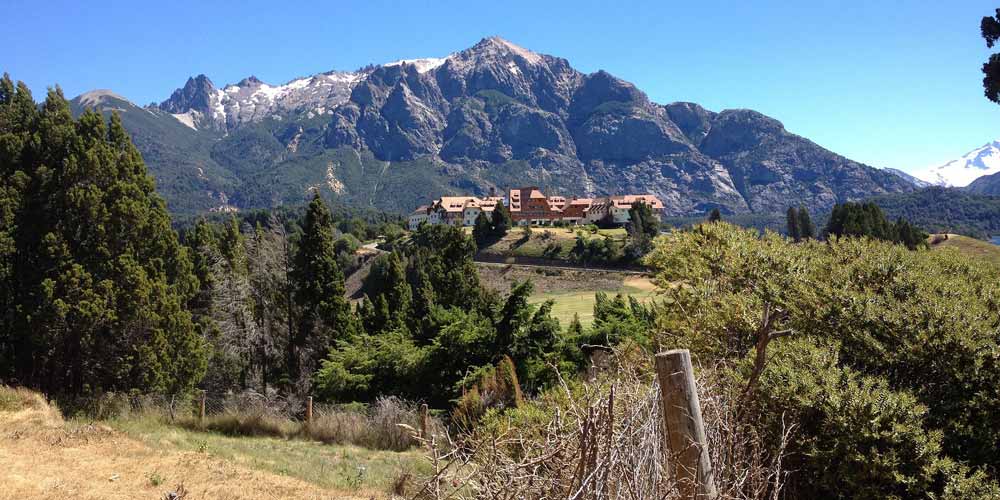 San Carlos de Bariloche to National Parc Los Alerces
Today we'll leave Bariloche and head south toward to the National Parc Los Alerces and Lake Futalaufquen. Our hotel for the night is in a spectacular setting on the edge of the lake. The wonderful and rustic Hosteria Futalaufquen.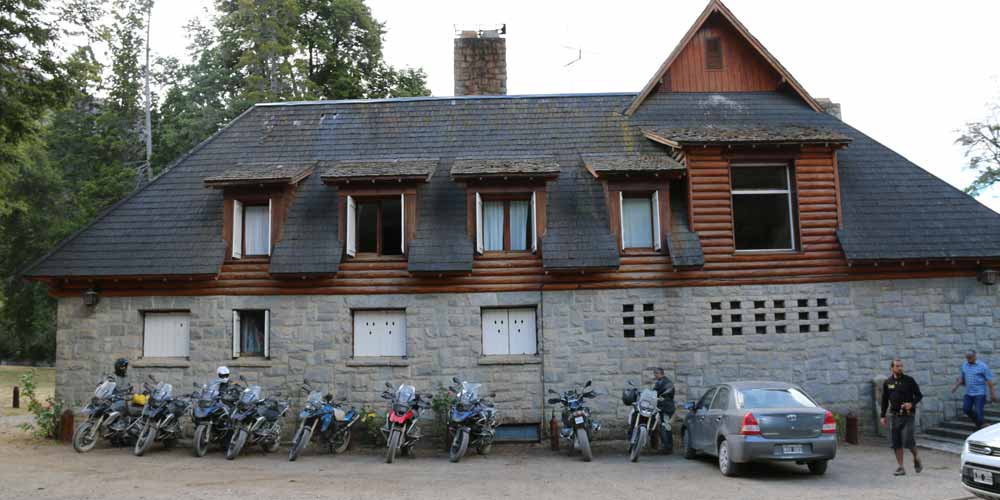 National Parc Los Alerces to the Carretera Austral
Today we head back into Chile on one of the most scenic crossings of the trip. Once in Chile we'll move south on one of the greatest back country roads in the world. The Carretera Austral otherwise known as the "southern road" moves us south into one of the most pristine regions on Earth (learn more here). Tonight we'll park our bikes in a secure parking lit and take ferry to stay at a fabulous lodge tucked away in splendid isolation in the middle of a Chilean fjord! The Puyuhuapi lodge is simply incredible!
Puerto Bertrand
We'll take a morning ferry back to the mainland and continue south along the Carretera Austral to our home for the night in Puerto Bertrand.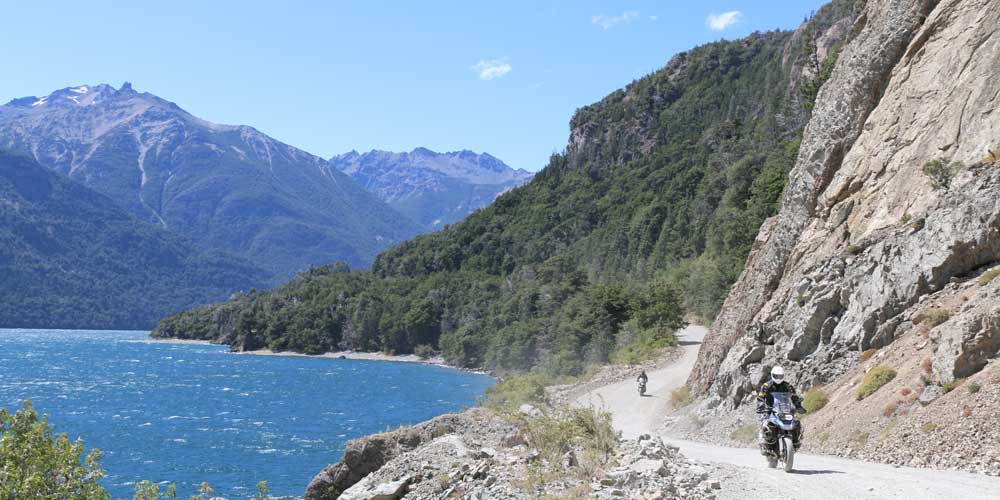 Estancia La Angostura, Argentina
From Puerto Bertrand we cross back into Argentina and head south on the famous Ruta 40. This marginally maintained gravel road is one of the most talked about sections of any ride in this area because of the wind. This region of Patagonia is home to the "Roaring 40's" . The winds in this area are nonstop and can be up to 70 miles per hour. If you're not careful your bike can be blown over when you try to park. Our home for the evening is a wonderful and functional "Estancia" called Estancia La Angostura.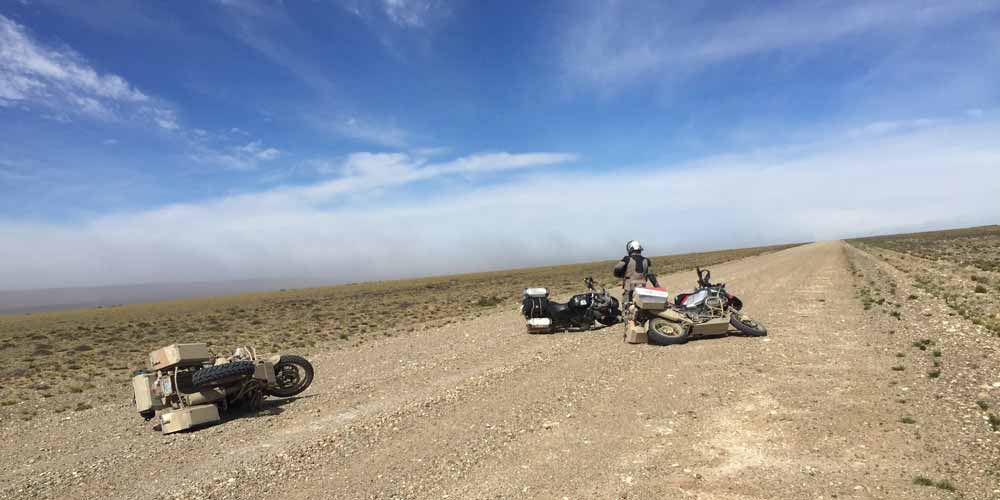 El Calafate
Today we'll continue south through the Roaring 40's toward the Southern Patagonian Ice Fields which are home to the massive Perito Moreno Glacier. Our destination for the day is the town of El Calafate, originally a hub for wool traders, Calafate has become an important tourist center due to its close proximity to the ice fields.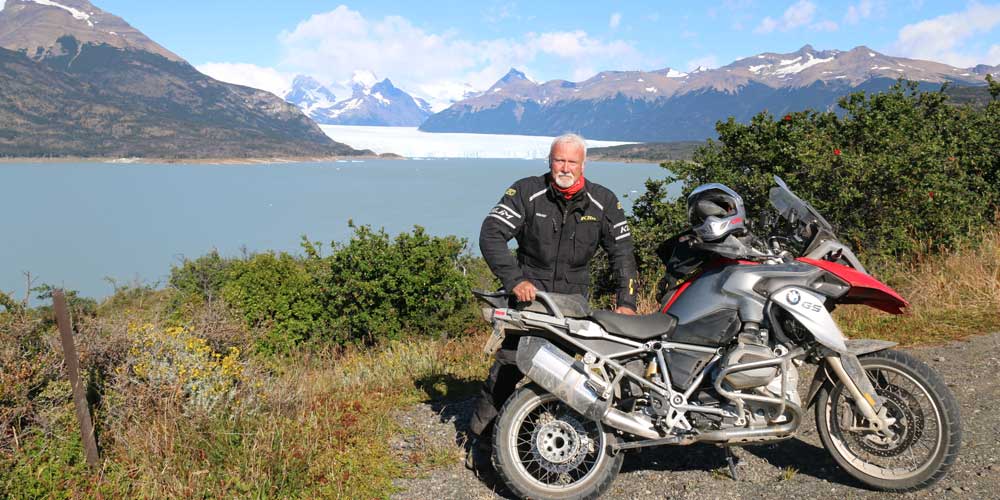 Puerto Natales
This morning we'll visit the Perito Moreno glacier before crossing once again back into Chile to our small hotel in Puerto Natales. If we have time we'll dart into Torres del Paine National Park and then continue south to our destination.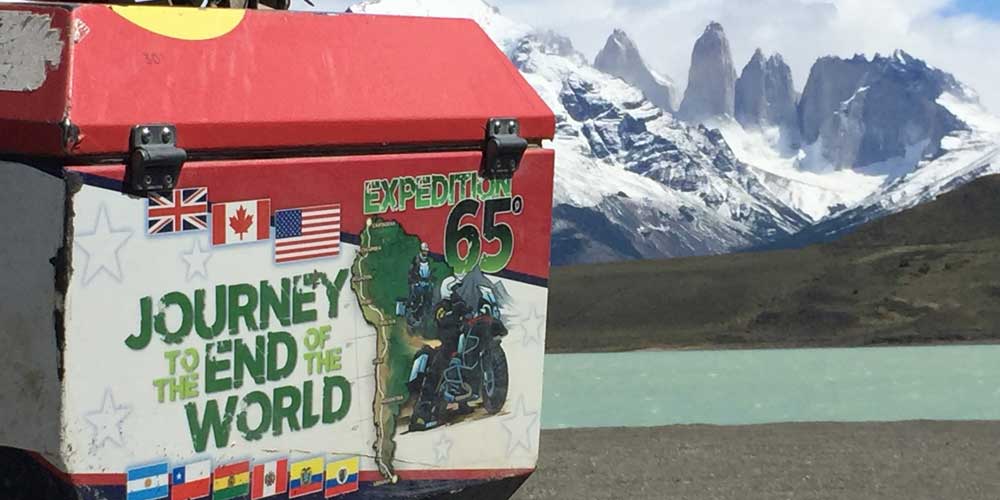 Rio Grande
From Puerto Natales we'll head back to Argentina where we'll ride the windswept landscape toward the coast where we'll catch a ferry across the Strait of Magellan and onto "Tierra del Fuego" or "Land of Fire". Once back on dry land we'll head for our hotel in Rio Grande!
Ushuaia
Our adventure ends today as we ride our final segment from Rio Grande to the end of the world in Ushuaia. Originally founded as a penal colony Ushuaia is now the "Gateway to Antartica" and is the southernmost city in the world to be able to reach by motorcycle! We'll have a final dinner together and prepare for departure tomorrow.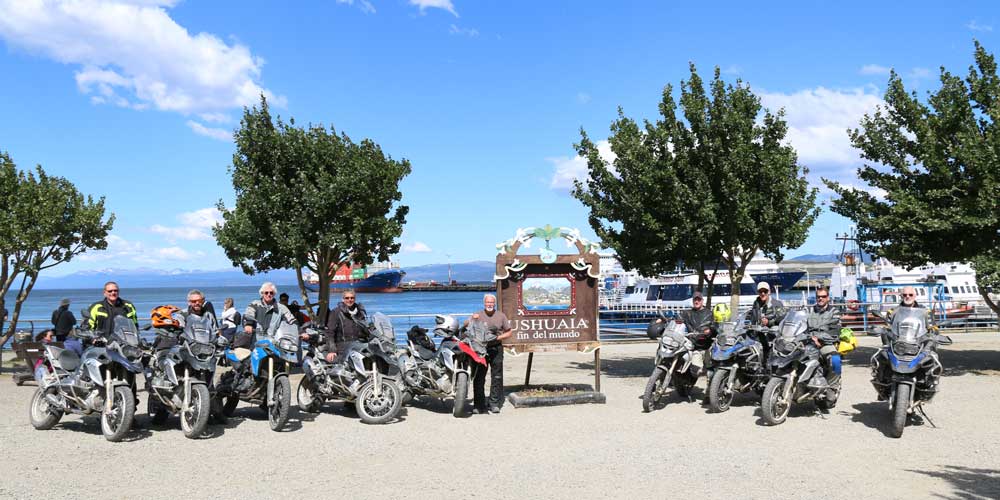 Departure
Today we head for home… or not! Perhaps you'd like to stay in the region for a few more days… or perhaps its time to go.