Colorado Backcountry Discovery Expedition
There is simply no place in North America or the world that offers such an amazing array of Adventure Riding opportunities as Colorado and because of this, RawHyde chose Park County, Colorado as the location of our new training and touring center last year.
Colorado has everything that any adventure rider could ever want. There are thousands of miles of unpaved roads and trails to explore. High mountain passes, massive aspen forests, historic mining towns and more.
We offer an array of things to do in Colorado for the Adventure Motorcyclist and we're pleased to add the Colorado Back Country Discovery route to our repertoire of inspiring rides.
So welcome to RawHyde's version of the COBDR. This is a 6 day ride that begins and ends at RawHyde's new facility high in the Rocky Mountains and is truly one of the most adventurous and beautiful rides available in North America.
RawHyde's
Colorado Backcountry Discovery Expedition

Itinerary:
Hartsel, Colorado
Whether you're flying to Colorado, or riding your own motorcycle we need to have you plan for an arrival in Hartsel, Colorado about 5 PM on the day before your trip commences.
RawHyde to Cortez, Colorado
Depending on the weather you'll begin your day with a beautiful dirt ride from RawHyde to Salida, Colorado. A few shallow water crossings will provide some early morning excitement and then we'll have a beautiful paved run from Salida to incredible Durango Colorado where we'll spend our first night.
Cortez to Ouray, Colorado
You'll leave Cortez early as today since its your first "off road day" and we need to get our group of riders "into the rhythm" of traveling as a group. The scenery is nothing short of amazing as you begin to climb high into the Rockies. You'll pass through many old mining sites, and we'll make a quick stop in Telluride for fuel and then we'll ride over the incredible Ophir pass before hitting the "million dollar highway" to Ouray and our home for the night.
Ouray to RawHyde
Todays ride is nothing short of amazing. You'll ride across at least 9 high altitude mountain passes. Five passes are above the 12,000 foot mark and two more top out at over 13,000. You'll cross the Continental Divide at least twice as well as visit the historic mining towns of Pitkin and Tincup. Relics of Colorados colorful mining past abound, and todays ride will show you how incredibly diverse the state of Colorado is. You'll cross the Continental Divide at Cottonwood pass and from there its pavement as we head to Buena Vista for fuel and we wrap up the day on high speed dirt roads bordered by aspen groves as we head in to RawHyde.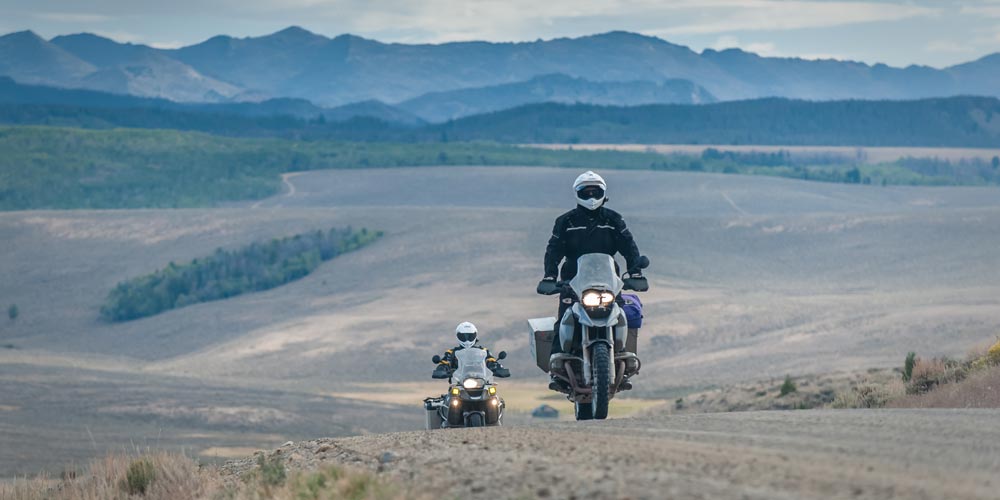 RawHyde to Gypsum
This is a spectacular Day, we'll leave RawHyde early in order to have enough time for stops along the way to appreciate just how wonderful the scenery is. We'll begin with a jump over beautiful Westin Pass and we'll come down off of Westin into America's highest incorporated city. Leadville Colorado has a significant mining past and there are relics from its mining heyday everywhere. The elevation at Leadville is 10,000 feet. We'll fuel up in Leadville and head for Hagerman Pass on the Continental Divide. From Hagerman we have a long off road section before we hit the pavement for the run into Gypsum.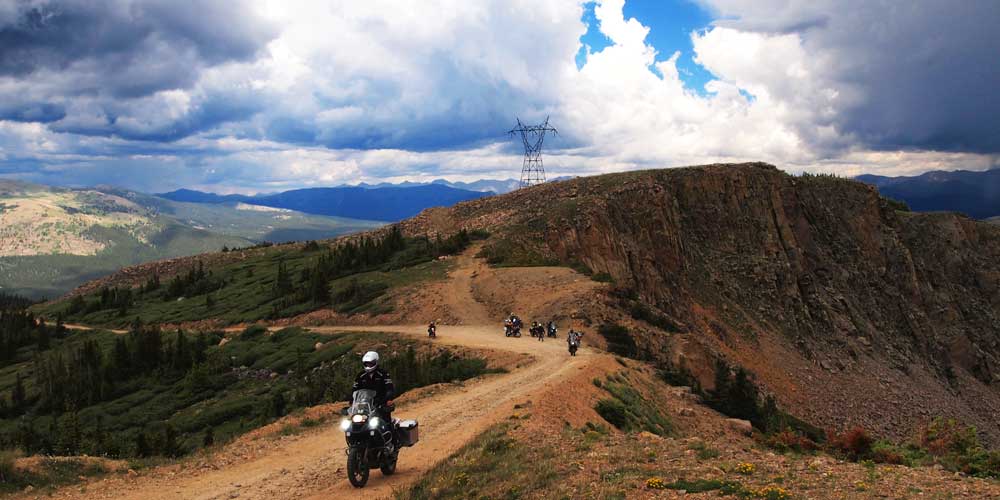 Gypsum to Steamboat Springs
Today we head toward Steamboat on the Continental Divide trail. We'll run at lower elevations today and the highest elevation we'll achieve is just over 9,000 feet. It's a beautiful run with some deep water crossings, classic Colorado – Aspen forests, wide open vista's and generally amazing scenery.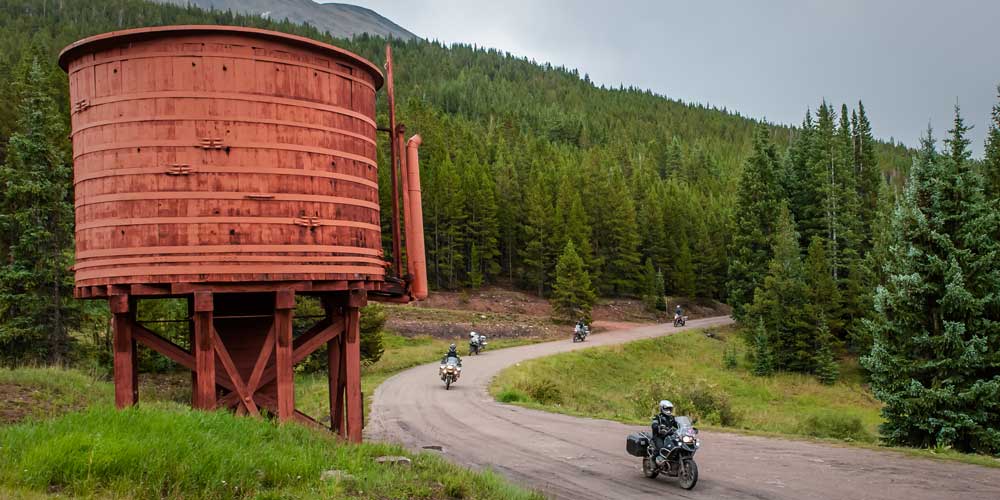 Steamboat Springs to RawHyde
We've taken a page from our Continental Divide tour to bring you back to RawHyde. You'll leave Steamboat Springs and head for the top of Rabbit Ears Pass on the Continental Divide. At 12,000 feet at the top of Rabbit Ears pass you'll turn south on the Continental Divide trail "in the dirt" until you reach the town of Kremmling. From Kremmling the trail continues due south to Breckenridge and over historic Boreas Pass. (on the Continental Divide again) and from there it's only an hour to RawHyde.