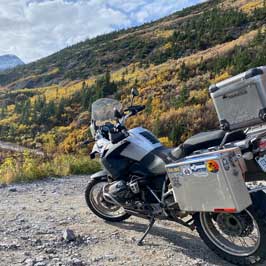 John Cook
Thank You for an awesome class!
Fort Collins, CO
I wanted to send a Thank You for an awesome class this summer at Colorado RawHyde. I was in the beginner class with my '08 GS and earlier this week I rode it up Imogene pass on the Ouray side. It was challenging and definitely stretched my skills as a rider but because of all of you, I had the confidence to do it. Everyone was great but particularly (coaches) John and Trev made my weekend with you guys one to remember. I'm sure I'll see you guys again in the future. Thanks again!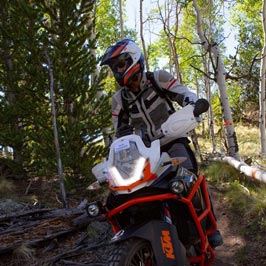 Nigel Thompson
Best Day Ever on a Motorcycle!
Aspen, CO
We had an amazing Next-Step (level 2 training group) thi, nobody was the best, nobody was the worst. Everybody rocked! From single track through the trees, to off-camber tight turns in the half-pipe, to navigating rock garden's, or fording sandy washed out river crossings where everyone got dirty making sure all riders got across, and always with amazing Colorado vista's guided by talented Coaches (thank you Barty & Bob). What more could you ask for.
Gary Isaac
Great places to ride and train
Jim,
It was a wonderful class, It was fun, helpful and challenging at the same time. I had an absolute blast. I told Lauren that I may be able to help her get the camp set up next year. So, just keep that in mind for next year if you need the help.
As far as the class goes, I would recommend that anyone that is thinking about riding off road on any bike take the class. The classes are helpful no matter what skill level you have. The instructors made every thing clear. Great places to ride and train. The food was amazing. If there was any doubt, check out the smiles from our group as we wrapped up our class.
Thanks again,
Gary Isaac
Gideon Weinberger
I had an absolute blast!
I had an absolute blast! I wish I had known how much fun this would be years ago. The scenery was breathtaking, the bikes we rented were top notch and the people were fabulous. I travel a lot for work and, oftentimes, the people I meet along the way are clearly just trying to get through their day so that they can go home to their loved ones. The staff at Rawhyde is different; they are truly passionate about what they do and it shows. Thanks again for everything you do and I can't wait to join you all again soon.
Tony Goble
The time with Rawhyde exceeded our expectations!
Tracy, CA
Rawhyde is a wonderful place to begin, or advance your adventure riding skills! The instructors are top-notch, the Colorado facility is located in a perfect setting, and the people are fantastic!. I recently participated in my first Rawhyde training and tour with my daughter to improve our riding skills, strategy, and preparation for adventure. Aside from being an amazing father-daughter experience, the time with Rawhyde exceeded our expectations! The group at camp that weekend were all incredibly supportive, friendly, and eager to help each other succeed - all facilitated by the professional, courteous coaches, and all of the supporting staff. We rented Rawhyde bikes due to distance and for convenience. The rental experience was simple, and the bikes were well maintained which made the experience hassle free. Others brought or rode their own bikes, and all were welcome, building upon the cool culture that is Rawhyde! Based upon my first experience, I am excited for the Level 2 training booked later this year at the CA facility!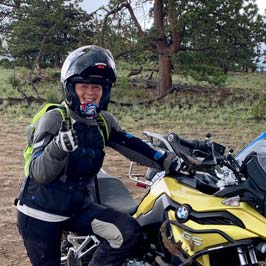 Kimiko Krekel
I truly enjoyed being off road and felt the confidence I had been missing. What an amazing experience!
Austin, TX
I came into the Rawhyde training with a bit of trepidation. I have been riding for 5 years - always on a GS. I have taken a few other off road classes. Even with the instruction and riding experiences, I was thinking off-road riding was not for me. Maybe I was too short. Maybe a GS was too heavy. maybe I was too old. I was always on edge, never felt at ease and, in all honesty, didn't enjoy it. Last Christmas, my husband bought me the Intro to Adventure as a present. I will say I wasn't thrilled at first. I just felt obligated to take the class. I decided that after this course I was going to make a decision about my off-roading future.
Rawhyde Adventures Intro class gave me the experience and confidence I needed. The coaches were so supportive and knowledgeable. The training grounds provided us the opportunity to get in a lot of riding time and practice - very little waiting around. Exercise after exercise, things started to click as we built our skills. I was looking up, seeing where I was going, feeling the balance of the bike. I gained confidence. Things really came together on the High Rockies Adventure ride. I was able to see how the skills we learned applied to the real world roads... and I was successful! I turned my head and body as I made my way up the switchbacks, kept my eyes forward as I picked my path through the rocky dirt roads, and used those braking skills we learned as I slowly came down the mountain passes. I had a blast! For the first time, I truly enjoyed being off road and felt the confidence I had been missing. What an amazing experience!
Thank you for hiring great instructors, creating a camp atmosphere that brings the students and coaches together as a team, and providing an incredible training experience. I am now ready for my next adventure and am a bit sad that I don't live closer to those amazing back roads that I now want to ride. I just may have to move to Colorado!!
Thank you again,
Kimiko Krekel
Austin, Texas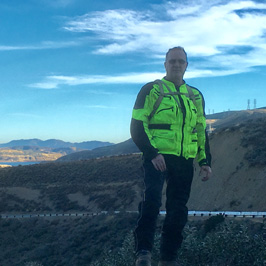 Bill Bergman
Simply the best experience thus far on my bike.
RawHyde Off Road... Simply the best experience thus far on my bike. Why? Here are a few reasons.
You can use your own bike EVEN if it's not a BMW. This was huge for me since I ride a Triumph Explorer XC and wanted to use it for training.
All inclusive. Once there my lodging and food (I'll talk about the food later) were included in the price.
Customer Service. From the start they make you feel welcome. Once there the level of service is legendary.
Training. They really shine here. The approach taken is to tell you to do "this" or "that" with your bike. This keeps you focused on the task and not thinking about doing it wrong.
Food. No trip to RawHyde would be complete without commenting on the food. This is not your typical "The was hot and there was plenty of it" kind of place. While this statement is true, one word description is "awesome". Breakfast was a buffet style affair. Lunch was a box lunch that would put most dinners to shame. Dinner was a 3 course meal complete with wine served to us by the RawHyde staff.
These are a few of the reasons I recommend RawHyde. I would also recommend a trip like the High Rockies Adventure after training to practice your new skills.
Thanks for reading.
Bill Bergman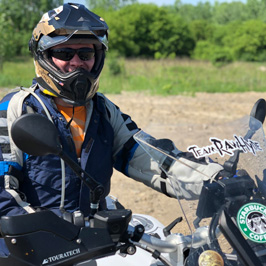 Mats Ceder
Show up Friday, put away my car keys and my wallet, and enjoy the weekend
Chicago, IL
I have attended several training classes and events at RawHyde. It reminds me of camp when I was younger. Show up Friday, put away my car keys and my wallet, and enjoy the weekend. Everything is there already arranged for you including bike, food, lodging and the great Dakar Bar! The opportunity to hang out with a bunch of riders around the campfire in the evening, discussing the ride experience from the day, is a great ending before heading to bed.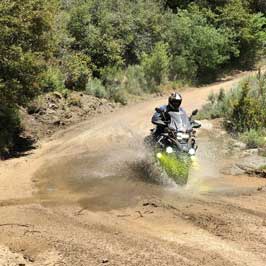 Scott Wachs
100% first class highly capable instructors
Coulterville, CA
I just wanted to take a minute to let you know last weeks Base Camp Alpha experience was just incredible. First of all the modification due to weather was brilliant, the ground we covered was beautiful and challenging but not overly intimidating. Arrival Sunday night I felt like I was being greeted by old friends or like I was coming home. Thats the overview, totally satisfied.
Now a couple details, your staff, all of them so far are nothing short of amazing, they really don't make me feel like some client with a bunch of money there to pay to have a good time. Your staff makes me feel like I'm part of something bigger and I really enjoy the whole experience. I have now had the opportunity to work with six of your coaches, they are all a little different as they are all individuals but they are also 100% first class highly capable instructors, being a good rider is difficult but teaching it is a whole other level of difficulty. I'm very impressed.
I had the the opportunity to ride Tuesday with Jeff And Barty, it had to be one of the greatest rides of my life. I felt really challenged but I never felt intimidated or in any serious danger, just right at my limit but not to the point I felt I was going to get in trouble. I really like those guys and we became friends which is special to me because I'm sort of a lone wolf and making friends doesn't come easily to me. I also made a couple new friends with other clients and I am probably going to ride to the Grand Canyon in September with one of them who will be picking up a bike from you, (Rob).
Thanks for all you do !!
Mylan Cohen
You inspire people to live life to its fullest.
Cape Elizabeth, ME
I just want you to know the incredible positive impact that you, your company, and your team has had on my life, Maya's life, and potentially our family as I've now encouraged our son to start riding. We intend to come back as soon as possible as a family to attend training together. You have an outstanding organization. Your leadership, ability to assemble an outstanding team, create a fun, challenging, positive, and rewarding environment, and offer an exceptional customer experience is incredible. You inspire people to live life to its fullest.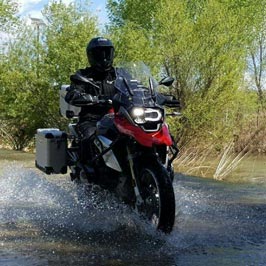 David Haydock
BMW motorcycles and Rawhyde go hand in hand!
Cambria, CA
Anyone that asks about my bike or talks about getting an adventure bike, I say two things... Get a BMW and go to Rawhyde, both of which are worth every penny! I then go on and on about the feeling of satisfaction being able to ride obstacles I would have never thought possible. And I have to rave about the fantastic food, fun atmosphere as someone who lives on the Central Coast of California, I have to let them know that Rawhyde even has an appreciation for good wine! Who could ask for more? BMW motorcycles and Rawhyde go hand in hand! They have both enriched my life immensely.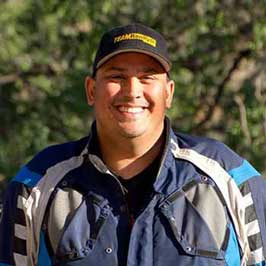 Jeff Camacho
I was lucky enough to work with this amazing team.
It was a great event. So many talented riders from all over the US came to RawHyde Adventures for the 2015 GS Trophy Challenge West Coast Qualifiers. I was lucky enough to work with this amazing team.
Daniel Schneider
I'll be back!
Thank you all for the awesome Intro Course last weekend. Great bunch of instructors and staff. I'll be back! I also want to thank you for making me think hard about upgrading to a 1200!
Talk to our Rider Advocate
Here at RawHyde Adventures we believe in actually having a conversation with people that are interested in our programs so please call us if you have the time. If you reach our voicemail; please leave a message and we WILL return your call promptly. Please Note: Occasionally we have programs that require the service of our entire staff and take us far beyond cell range, and thus it may be a day or two before we can return your call, but rest assured we will do so as soon as possible.
Even though we'd really rather talk to you in person.. email is sometimes necessary so - email if you must but call us if you can, we'll be delighted to answer your questions. If you do not receive a response to your email within 2 business days; please call. If we are out of the office (as stated above) we will contact you as soon as possible.
Thank you.