Big Bikes in Baja
Rediscover Mexico
Big Bikes in Baja – This trip could also be called The Introduction to Baja Tour… because it will leave you craving for more! This ride provides you with a sampler of the what of Baja has to offer the adventure rider. PLUS the unique opportunity to venture down into both Baja Norte and Baja Sur to see the Pacific Gray Whales. (Which is truly a life changing experience!)
Ride overview and description. This trip is about 40% off-road, 20 % beat up pavement, and the rest is good pavement, but its ALL adventurous! It's an easy to intermediate ride from a technicality of the riding standpoint. Some rocky roads, a couple of steep rocky hill climbs, and some sand are the most challenging parts of the ride.
Your trip will begin at RawHyde Ranch in Southern California where we'll gather together on Sunday night and spend some time getting to know each other with an orientation and a great welcome dinner.
Price:
$3,995 on your own bike
$4,795 With rental of a BMW GS
(based on availability)
Dates:
Big Bikes in Baja

schedule:
RawHyde Ranch
We depart RawHyde and make our way south to the Mexican border. We'll cross into Mexico at the sleepy checkpoint of Tecate, and from there it's about a 40 minute ride to our hotel. Our first night will be spent at an old bull fighters' training center now turned into a moto hangout called Rancho Santa Veronica. RSV as we call it is a sprawling hacienda that harkens back to the "old way of life" in colonial Mexico. It's a safe, clean, and unique way to spend our first night in Mexico.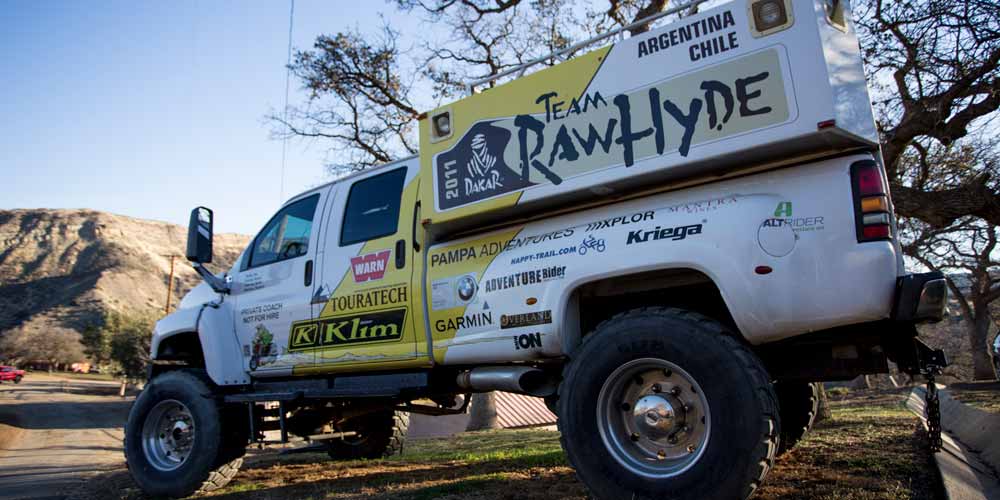 Mike's Sky Ranch
Today is nearly all "off-road" beginning with a 50 mile off-road section heading south down what's known as the Compadre Trail and as we head toward the historic iconic Mike's Sky Ranch for our second night. There is a great story to Mike's, and it's just like Kevin Costner's movie Field of Dreams where "if you build it… they will come." Fifty years ago a guy named Mike built a 60-room motel in the middle of nowhere… and now people come in droves to experience the remote splendor of Mike's Sky Ranch… Mike's is now legendary in Baja as it sits on the Baja 1000 race course and is one of the most iconic "moto resorts" in all of Mexico.
The coast of the Gulf of California
We leave the venerable Mike's Sky Ranch and head toward the beach town of San Felipe on the eastern Baja shore where we'll have a late lunch by the water, and may, or may not, continue on toward the incredible Bahia San Luis Gonzaga or Gonzaga Bay and one of the most picturesque waterfront boutique hotels in Mexico depending on availability.
If we make it down to Alfonsina's for the night, and the front door of your room will be just 20 feet from the waters and the sunrise over the bay is nothing short of spectacular! Dinner at Alfonsina's will be fish tacos, crafted from the daily catch of the hotel's own fishing boat.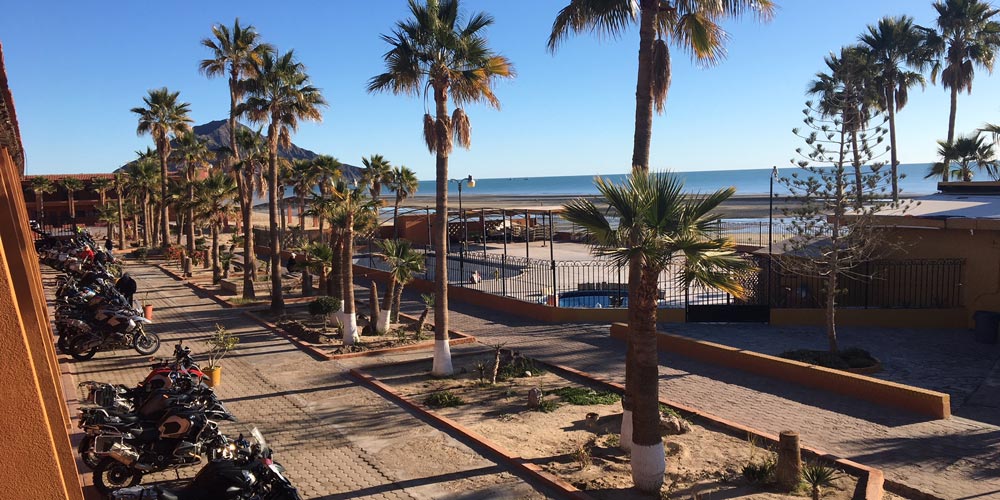 San Ignacio
This is a pretty long day as we trek from San Felipe (or Gonzaga Bay) on brand new pavement down to the iconic Baja-must-stop Coco's Corner where the pavement disappears and becomes one of the rockiest segments of the trip. Once we hit the pavement at Mexico Hwy 1 we have a couple of hundred miles to make it down to San Ignacio. We'll head south and ride through Reserva de la Biosfera El Vizcaíno as we wind our way down into Baja Sur to San Ignacio Lagoon. San Ignacio is one of three true oasis towns in Baja. Just imagine traveling for hours through the barren desert of Baja only to drop down into a lush canyon with hundreds of thousands of beautiful palm trees. Our home for the night is a hotel called "Rice and Beans"… and they make the best margaritas in all of Baja.. Our accommodations for the evening sits once again on the tranquil waters, this time on the Pacific, in another truly spectacular setting!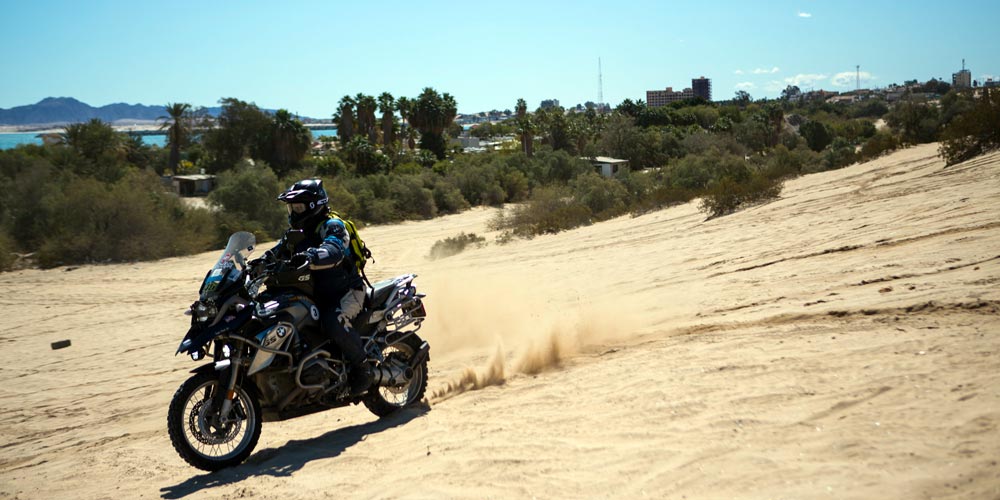 San Ignacio
This is a non-riding day in San Ignacio to see the Pacific or California gray whales. Truly a bucket list experience to have the gentle giants of the Pacific nudge up against our panga boat, roll over and peer up at you with one tiny eye. Please see the video on this page for a glimpse of what it's really like to have the whales up close… it's simply awe inspiring.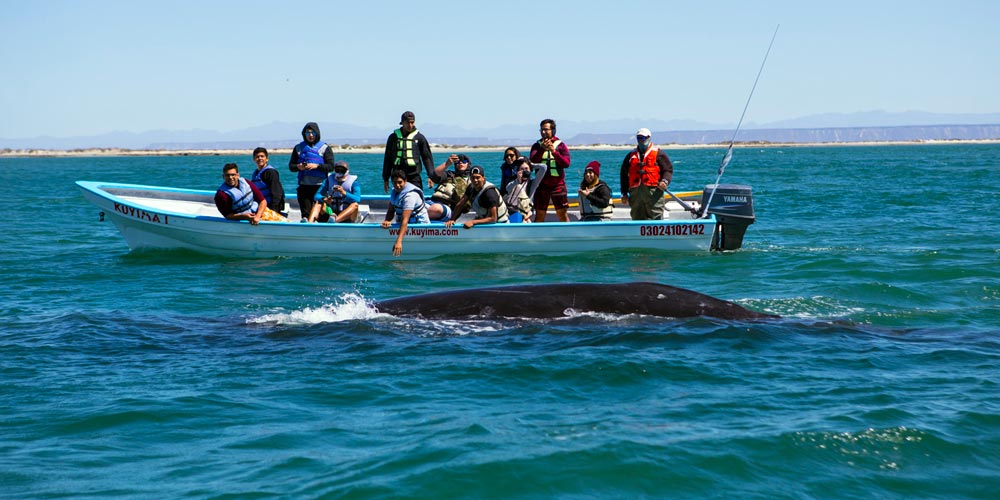 Ensenada
We head north and ride as far as we can. There's a need to remain somewhat flexible – it is after all Mexico. So we will either ride to Mision Santa Maria in San Quintin, Coyote's Cal in Eréndir or El Cid in Ensenada depending the group and conditions. Regardless we ride north along the Pacific Ocean.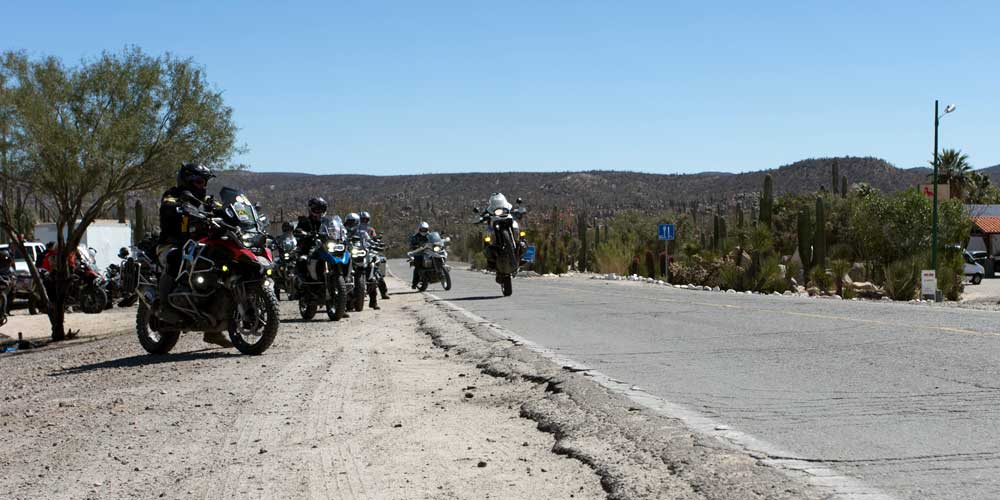 RawHyde Ranch
Our last day of riding is a pretty long day as we have to return to the US today, but the run up the coast is truly spectacular. We're likely to have lunch in Ensenada if we haven't made it that far north the day before. But no matter what we wind our way north through Baja's wine country toward the same border crossing we used as we entered Mexico. Once we're back on US soil we'll head for RawHyde … and if all goes according to plan we'll roll into RawHyde Ranch about 7:00 PM where showers and dinner await. You're welcome to spend the night at the Ranch and depart after breakfast in the morning on Monday.