Best of the West - Road To Riches Adventure
Colorado to California
Our Road to Riches adventure is a six-day journey that encompasses the highlights of the raucous American West mining eras– silver and gold in Colorado, copper in Utah, silver and copper in Nevada, and the California gold country. Experience the Loneliest Road in America – Hwy 50 through Colorado, Utah, Nevada, and into California. We'll traverse the same routes early prospectors took, pass long abandoned Pony Express and stagecoach stations and more… PLUS a chance ride the Shafer Switchbacks in Moab, see petroglyphs and/or soak in undeveloped hot springs after riding high mountain passes in Nevada before landing at RawHyde Ranch back in southern California. This is truly THE Best of the wild, wild, West!
Best of the West – Road to Riches itinerary – Colorado to California
Hartsel to Grand Junction
via Weston Pass, Hagarman Pass, lunch in Carbondale to Hotchkiss, up Hwy 50 into Grand Junction
Today we leave RawHyde Colorado will spend the entire day surrounded by beautiful mountains and amazing scenery as we ride up and over Weston Pass. Weston Pass is 26.5 miles and at nearly 12,000 feet makes it one of the highest mountain roads of Colorado. The road over the pass was known as "Road To Riches" when it was built in 1860 because it was used by prospectors with gold and silver dreams. We'll also see some old cabin remains here and there along the ride. And we're likely to see numerous beaver dams but some great mountain views are guaranteed. From there we'll head on up and over the Continental Divide at Hagerman Pass, a second nearly 12,000 foot pass. At the top of the pass we'll have great views of the Turquoise Lake area to the east and the Hunter-Fryingpan Wilderness to the southwest. From there we turn and head into the Roaring Fork Valley for a lunch stop in Carbondale eating in the magnificent shadow of 12,953-foot Mount Sopris, where rocky vistas meet crystal waters. From here we head south down CO-133 to the quiet mountain town of Hotchkiss and the up into Grand Junction for the night.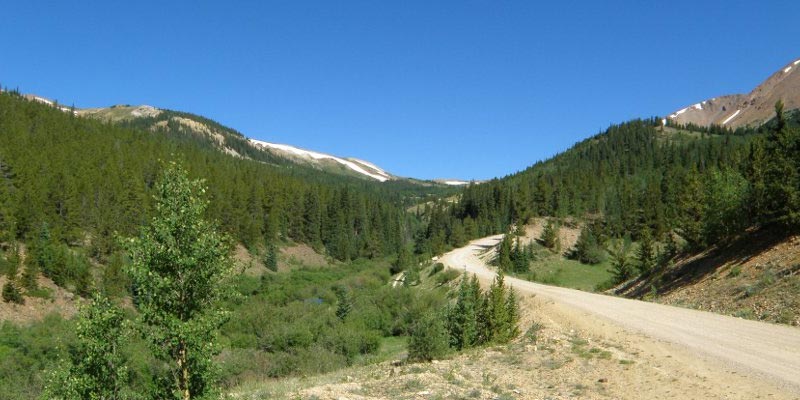 Grand Junction to Hanksville via Schafer Switchbacks
via 128 past Dewey Bridge, to Castle Valley and La Sal Manti Loop Road, into Moab for lunchand then out Potash Road past dinosaur footprints and up Schafer Canyon Switchbacks in Canyonslands National Park, down 24 into Hanksville, UT
We bid farewell to Colorado today and as we enter Utah we'll follow the Colorado River along 128 past the remains of the famed Dewey Bridge, Fishers Towers, and into Castle Valley. From here we head up past Castleton Tower into the famed La Sal Manti Mountains to ride the Loop Road around and down into Moab for lunch. After lunch we'll ride out Potash Road past the dinosaur footprints and head up Shafer Canyon Trail and the 18 mile dirt road that includes a breathtaking climb up the adrenaline pumping Shafer Switchbacks with expansive views of the surrounding Canyonlands National Park. Shafer Trail is the access trail to the famous White Rim Trail.
The Shafer Trail road was originally built by uranium miners during the middle part of the twentieth century to transport the extracted ore. There are sheer drops virtually along the entire route and enough hairpins to make a whirling dervish dizzy. A quick glance at the picture shows its sheer drops and serpentine twists and turns, confirming that this is no hype. We leave Canyonlands and ride to Hanksville, UT – home of the The Mars Desert Research Station and there you'll think you're actually riding on Mars!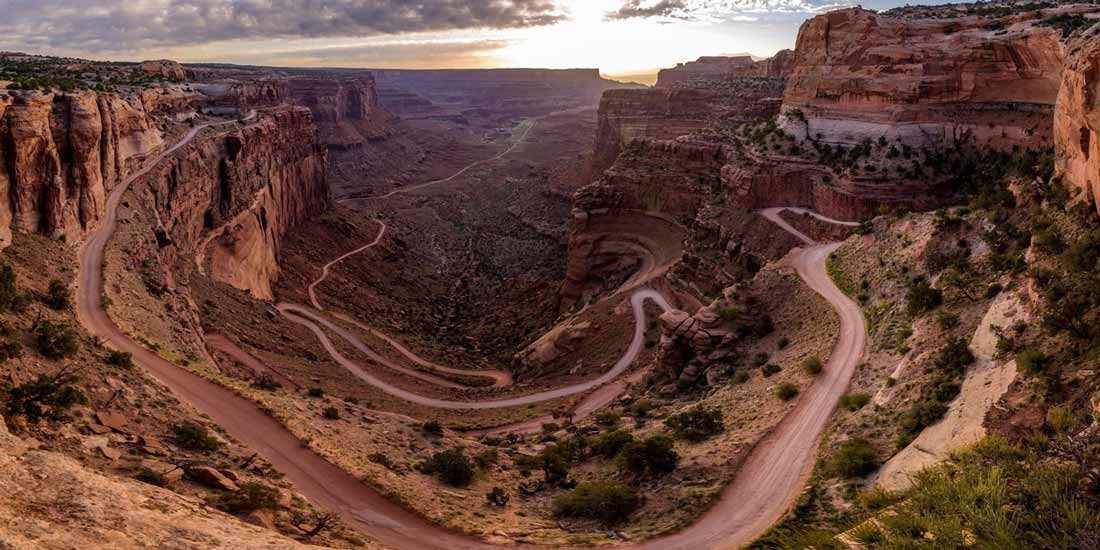 Hanksville to Ely
Hanksville through Capitol Reef National Park, to Loa, Hwy 153 to lunch in Beaver, to Ely. NV
We leave the Mars-like landscape and ride through Capitol Reef National Park located in the heart of red rock country. The park is in Utah's south-central desert. It surrounds a long wrinkle in the earth known as the Waterpocket Fold, with layers of golden sandstone, canyons, and striking rock formations. We'll continue on through the small town of Loa, known for its quarried black igneous stone buildings. Our lunch stop today is in Beaver before continuing northwest into Nevada and onto Hwy 50 – The Loneliest Hwy in America. We'll spend tonight in Ely, NV. Ely was founded as a stagecoach station along the Pony Express and Central Overland Route.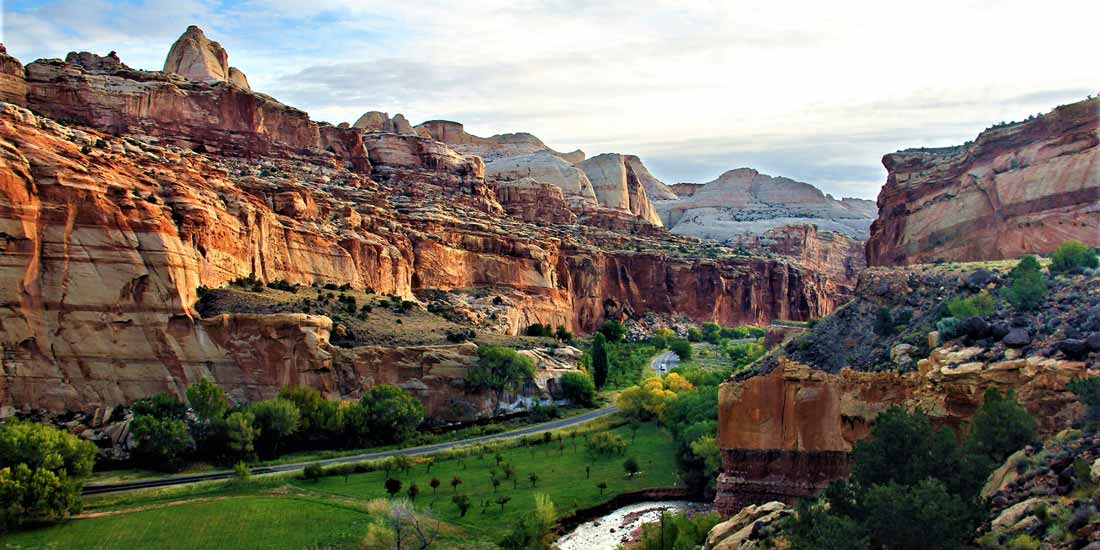 Ely to Carson City
via Hwy 50 – the Loneliest Hwy in America – with a stop at Spencer Hot Springs (39.3269, -116.8598) or at the Hickison Petrogylphs (39.44868, -116.73785), lunch in Austin, to Carson City
Today we're likely to see herds of wild horses, pronghorn, and free range cattle as Hwy 50 winds its way across Nevada. We will most definitely pass the remains of Pony Express and Overland Stagecoach stations, ride on parts of what settlers, prospectors, and railroad workers traversed. We'll pass the famed Sand Mountain. Hwy 50 across Nevada was described at the "Loneliest Road in America" by Life magazine in 1986 but they were very, very wrong. This stretch of road is home to small towns, mountain crevasses, wide open vistas, uncrowded natural beauty, and scenic splendors.
Carson City to Gold Country
Hwy 4 Ebbetts Pass, Hwy 49 to Angels Camps, lunch in Sonora and then south
Today we'll ride over the Sierra mountains and down the western side into California gold country via the most intimate and untamed trans-Sierra routes — the Ebbetts Pass National Scenic Byway. Jutting up from the heart of the Sierra Nevada with Lake Tahoe and Yosemite National Park as its neighbors, the byway is a 61-mile stretch of Highways 4 and 89.
Today will be filled with glacially carved valleys, granite outcroppings, basalt columns, ancient volcanic peaks, deep river canyons, thick forests, bald eagles, majestic stands of Giant Sequoia, open meadows, pristine alpine lakes, precarious drop-offs, small hamlets, warm hospitality, hot mineral pools, swiftly flowing streams, cascades and rivers, and some of the most dramatic and breathtaking views of the Sierra Nevada mountain range.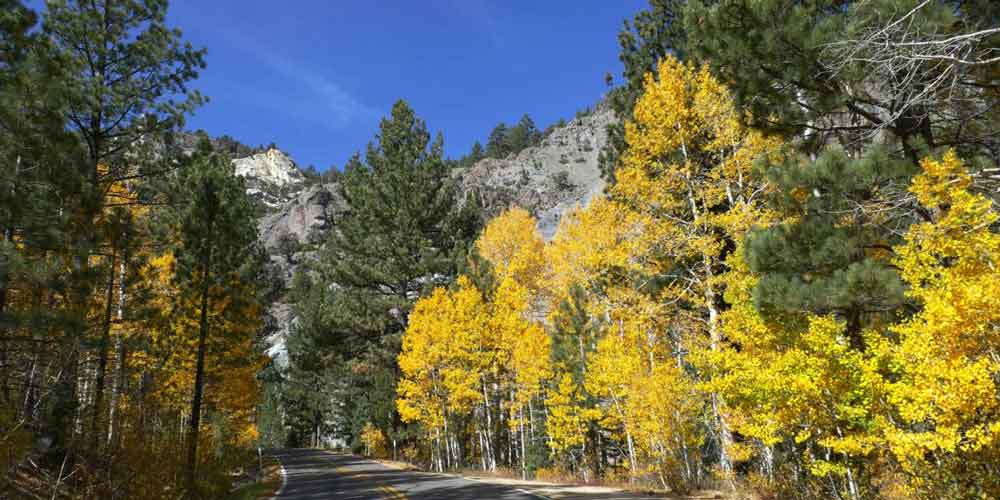 Oakhurst to RawHyde Ranch
via 33, lunch in Taft, through Frazier Park back to RawHyde
Today is our last day of riding as we ride south out of California Gold Country on to Hwy 33 and across to Frazier Park to return to RawHyde Ranch in northern LA County. Enjoy the hospitality of the "RawHyde Ranch," the Dakar Bar, and an outdoor shower!