Ladies Only

Intro to Adventure

$1,695 includes training, lodging, all meals, and beverages.
Attention ladies! You asked, and we listened: RawHyde is now offering a Ladies Only Training class October 13 th , 2023 weekend. This is your opportunity to learn how to handle your bike off-road, gain confidence, and make some life-long friends in the process.
RawHyde classes are usually co-ed, and yes they do tend to be male-dominated. But for this training weekend only we will have a killer line up of awesome women coaches Erin Sills and Gina DePasquale to train you on your offroad ADV Bike.
Don't have a bike? We have some for rent! We have a fully stocked fleet of BMW Adv Bikes ready to ride. This isn't a "intro to riding" class its more of a "intro to off-roading" class. You must have basic knowledge and experience riding motorcycles to join.
This weekend will be jam packed with bonfire camaraderie, home cooked meals by our incredible chef, onsite lodging at our rustic ranch in Castaic, CA, and a dinner with Michelle Reines the Author of "From BAD to Badass Leader"!
Babes Camp Alpha Ride October 16th - 17th 2023
We will be offering our 2-day Base Camp Alpha ride that is usually following our regular training classes but instead were calling it "Babes Camp Alpha"! This will be a 2-day ride out to our facility we call Zakar! This will be a half road/trail ride with an overnight stay at our facility in Mojave CA. We will be heading out Monday AM and Returning Tuesday Evening. All meals and lodging is included for $595! Let us know If you would like to add this on to your training!
Meet the Coaches
Erin Sills
Coach
Erin Sills has logged over 350,000 miles across the high deserts of CA, NV, UT, and the Great Southwestern US. With over 20 World and National Speed records under her belt she came to RawHyde in 2016 to learn how to become more comfortable with motorcycles moving around under her on unstable terrain like dirt and salt. Erin has a top speed of 242MPH (so far) at 5' 7'' and 125 pounds, she strives to demonstrate that smaller stature people – male or female – can confidently maneuver the 600 pound BMW GS1250 in adventure conditions.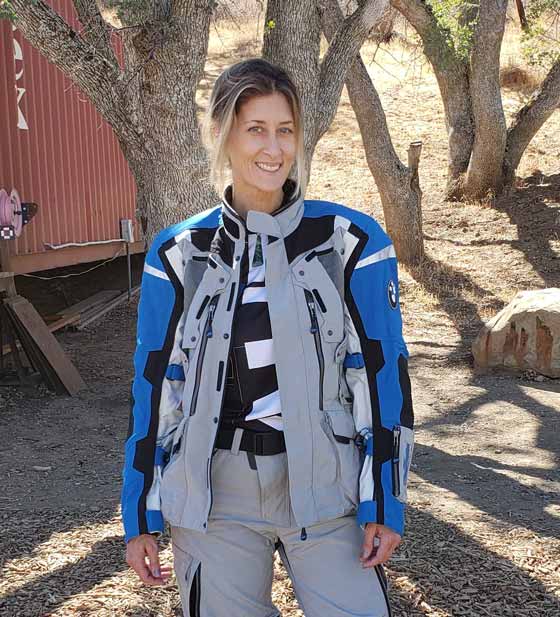 Gina De Pasquale
Coach
Gina has been coaching at RawHyde since 2017. In 2001, after a year of leading cross-country tours for Edelweiss Tours, she became a product specialist and ride leader for BMW events and press launches. This was the start of her long-standing relationship with BMW Motorrad. Gina spent nearly two decades working at car and motorcycle shows, events and open houses. In 2004 she opened Long Beach BMW Motorcycles, became a top salesperson and apparel specialist, and bought the '05 R1200GS she still rides today. This is where Gina first met Jim Hyde. Her first real stab at adventure riding was spent at a training weekend for dealerships. 2007 she enjoyed working as Retail Center Manager at BMW of Las Vegas and later in 2015 opened Mamba Motorsports in Santa Clarita. This reconnected her to RawHyde Adventures and the now exploding world of adventure riding. After her first training, she was hooked! Gina enjoys being a role model for women and inspiring riders everywhere! Her favorite part of RawHyde is that fact that she gets to meet new people whom she loves teaching, sharing tips, knowledge and experience.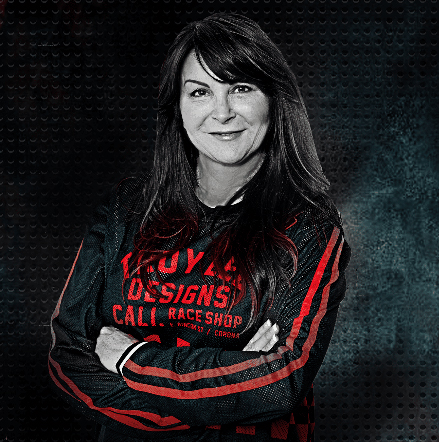 Michelle Reines
Guest Speaker
Michelle is the founder of MDR Coaching & Consulting, Inc., and creator of the unconventional "Badass Leader®" brand. She's innovative, results-oriented and has a coveted reputation of helping teams exceed expectations in highly competitive, distressed, or volatile business climates. In Michelle's free time she is an avid ADV Rider and gets to mix work with play! She has joined RawHyde for multiple training sessions and absolutely killed it!
You'll learn skills like:
Body positioning for off-road riding
Clutch, throttle, and brake control
Weight-shifting techniques for steering the bike
Balance techniques
Turning the bike using counterbalancing
Obstacle avoidance
Front and rear wheel skids
Hill climbs and descents
Sand and gravel techniques
How to recover from a stall on a steep hill
How to turn around a fully loaded bike on a steep hill
Ladies Only Intro to Adventure

Itinerary
Friday
October 13th
3-5pm Arrival / Check-In
5pm Bar Opens
6pm Appetizers & Orientation
7pm Dinner
8pm Bon Fire
10pm Bar Closes and Lights Out
Saturday
October 14th
6:30-8am Coffee
8am Breakfast
9am Riders Meeting
10am Kickstand are up!
12:30pm Lunch
1:15pm Kickstands are up!
4:30 Pulling in from Training
5pm Bar Opens
6pm Appetizers and Talks with Michelle Reines
7pm Dinner
8pm Bonfire and Highs/Lows Talks
10pm Bar Closes and Lights Out
Sunday
October 15th
6:30-8am Coffee
8am Breakfast
9am Kickstands are up!
12:30pm Lunch
1:15pm Kickstands are up!
4:30 Pulling in from Training
5pm Bar Opens
6pm Appetizers and Graduation Ceremony
*At this point you're welcome to stay on Sunday Night or depart and head home for the upcoming work week. Sunday night is included but totally optional as we understand people need to get back home!*
7pm Dinner
8pm Bonfire and Highs/Lows Talks
10pm Bar Closes and Lights Out
Monday
October 14th
6:30am Coffee
7:30am Breakfast
8:30am Babes Camp Alpha Heads Out to Zakar!
Price:
$1,695 on your own bike
Most models of the BMW GS available
Dates:
Intro to Adventure
Babes Camp Alpha
Intro to Adventure + Babes Camp Alpha