The High Rockies Adventure Ride
A 2-day "hub-and-spoke" adventure ride following each scheduled camp date.
Following our training classes in California we offer a two day follow up ride called "the journey to Base Camp Alpha". Now we're pleased to offer a similar program here in Colorado. One thing we have learned over the years is that many folks don't have the opportunity to go riding and practice their new found skills when they get home from their training session with us. Consequently you forget things... and then when you get back on the bike you don't feel that you have the same edge that you did when you wrapped up your training.
There's nothing like taking a good ride through the type of terrain your bike is intended for to cement the skills you learned in class. So here are the details of our new 2-day High Rockies Adventure (The HRA)
The High Rockies Adventure Ride

schedule:
Day 1
The Boreas Pass Loop
The Boreas Pass
Located just 40 miles north of our camp is historic Boreas Pass, over which a narrow guage railway originally connected the ghost town of Como to Breckenridge. Boreas Pass is also located on the Continental Divide at an elevation of 11,400 feet. The view from the top is unbelievable. Today's 200 mile adventure leads you over the pass into Breckenridge and back on mostly unpaved country roads past many idyllic Colorado ranches. It's a wonderful blend of Old Colorado and New. Como is shabby, tired and faded, almost a ghost town but made up of the old square fronted buildings the old west was known for and it has lots of relics of its glory days. Breckenridge is the epitome of a modern Ski Resort town situated in a stunning valley full of Aspens and Pines. It's a great introduction to riding in Colorado.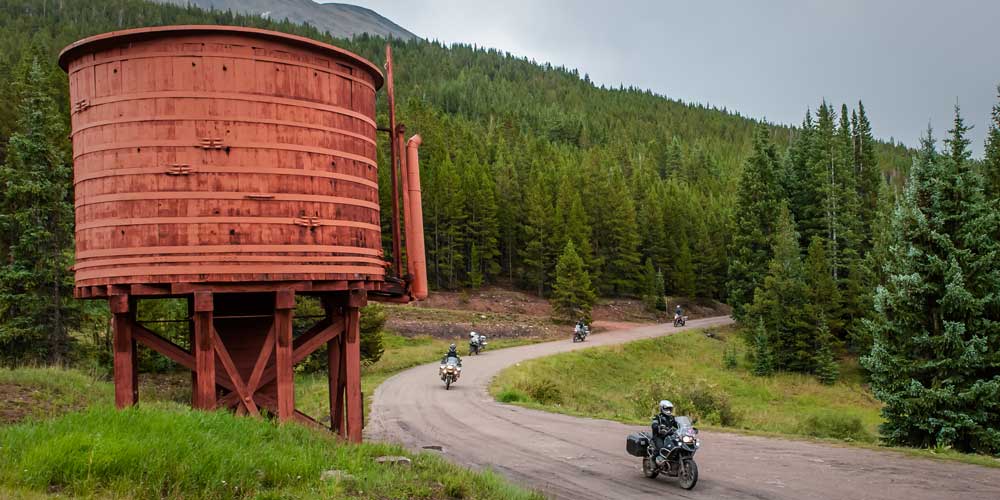 Day 2
The Monarch and Marshall pass loop.
Salida, Colorado
Today's 150 mile ride takes us south out of camp on an unpaved country road toward Salida, Colorado. We'll fuel up in Salida and head for the Continental Divide at the top of Marshall Pass. Marshall Pass is nothing short of stunning. The aspen forests are lush, dense and amazing, the views are stupendous. Words can't adequately describe how impressive the high mountains of Colorado are. This is one of the great mountain passes of the state. We'll continue down the western slope of Marshall Pass and into the rustic one horse town of Sargents before we head back up to the top of the Continental Divide again over historic "old Monarch Pass" & from Monarch we'll head into the rough and tumble town of Buena Vista; Colorado for fuel before returning again to Camp.