Continental Divide Ride
America's Ultimate Adventure
Picture a route two and a half thousand miles long, stretching from Mexico to Canada, traversing New Mexico, Colorado, Wyoming, Idaho, and Montana, with elevations from 4,000 feet to a cloud-scraping 13,000 feet. The path criss-crosses a single geologic feature that rules over most of the North American continent, influencing weather, determining which oceans receive the outflows of thousands of watercourses, creating and dividing habitats—and offering spectacular views to those who challenge its heights. This is the legendary Continental Divide, also known as the Great Divide!
Remote and inspiring riding the Great Divide is truly a bucket list trip. For ten days you'll experience the most stunning landscapes our country has to offer, enjoying nights out under crisp starry skies or in fine lodges. You'll be challenged by the terrain and amazed by the scenery. The route is only passable in summer, and even then storms can render many passages difficult but it's an amazing trip, one you'll talk about for years to come.
Background:
Our first trip on the Continental divide was during the summer of 2009 where we spent 12 days exploring the "Divide" with a diverse group of riders. Our party was comprised of 13 guys and three ladies. We rode just over 2500 miles through the back country of Arizona, New Mexico, Colorado, Idaho, Wyoming, and Montana. In those 2500 miles we witnessed the incredible vastness and unspoiled beauty of the USA in a way that very few motorcyclists ever see. It is hard to fathom that you can ride such distances and yet stay in wildly remote yet pristine areas while doing it, but its possible. Our start point was Douglas, Arizona (on the Mexican border) and we wrapped it up at Roosville, Montana (on the Canadian border).
We rode among the Saguaro cactus of the Arizona desert, we scaled the 14,000 foot peaks of Colorado and in Wyoming we thundered over the western edge of the Great Plains on narrow dirt tracks with cattle grazing in the distance and we negotiated tight single tracks high in the Montana wilderness. This was American back country at its finest; an incredible journey through an amazing tapestry of landscapes; the harsh deserts of Arizona to the lush alpine settings of Colorado. The "hundred mile views" over the plains in eastern Wyoming and the "Big Sky" of Montana.
Now – 8 years after that first great journey of exploration we are calling this trip experience "America's Ultimate Adventure!" Why? Well - there are three reasons that stand out.
First is diversity of terrain and trails. The western US is an utterly amazing place to go Adventure Riding; from the flat and arid vastness of the deserts with its wide graded roads, to the rugged passes of the Rocky Mountains and the magnificence of the Grand Prairie and the single tracks of Montana. Honestly–where else in the world can you find such rapid changes in geography in such short distances?
The second reason is the awesome lack of population along this route. As you ride you'll see very few signs of civilization. You almost feel that your are riding somewhere other than the United States.
And third (and most exciting) is the unpredictably of the route. You can only ride the divide in summer time because of snow in the northern sections. However, that is when the monsoon storms are prevalent in Colorado, New Mexico, and Arizona. Each afternoon the storm clouds built and unleash torrents of water for an hour or two. Flash floods can erase the road... we know... we found out the hard way! The good news is that things dry out quickly and we're usually not inconvenienced for long.
It's really hard to adequately describe this journey! Incredible, Awesome, Stupendous and words like that just don't seem to do it justice. Perhaps you should just see for yourself?

Trip Details:
You can join us for two very special trips through the heart of the Great Divide.
Although our original trip was 12 days in length, we know that few folks can dedicate that much time to a motorcycle adventure. So our trip is somewhat shorter and shows you only the best, most adventurous and scenic section of the Great Divide. We call it the "Heart of the Divide."The trip will run between Helena, Montana and Albuquerque, New Mexico; passing through Colorado and Wyoming to. You'll get the chance to ride all the really cool parts of the Divide.
We are operating two tours this summer; the First Tour will begin in New Mexico and run to the north and the Second Tour will leave from Helena, Montana and run in a southern direction. Each trip will be 10 nights and nine days in length. Accommodations will be a mix of hotel nights and camping nights, and except for gas for the bikes and alcohol at dinner on restaurant nights the trip will be all-inclusive. These trips are heavily supported by two 4-wheel drive trucks, luggage trailer, chuck wagon ,and at least two guides per trip.
Price:
$5,495 on your own bike
(plus - $175 Forest Service use fee)
Most models of the BMW GS available
Dates*:
*July 20 - 29, 2023: Northbound – Albuquerque to Helena

August 3 - 12, 2023: Southbound - Helena to Albuquerque
Continental Divide Ride

schedule**:
** Depending on the date you choose to take this tour you'll either be riding 'Northbound" from Albuquerque or 'Southbound' from Helena – the itinerary is the same for both trips, but the 'Northbound' trip run's in reverse to what's listed here on our itinerary page.
Helena, Montana
Your adventure begins at our hotel located just a few miles south of Helena, Montana directly off of I-15. Please arrive around mid-afternoon on Thursday. You'll probably run into a few of our crew members as you pull in to the hotel. Please say hi and then check in.
We will have a beer or two and discuss the upcoming week's adventures. We'll have a welcome dinner tonight at an awesome roadhouse just across the street from the hotel.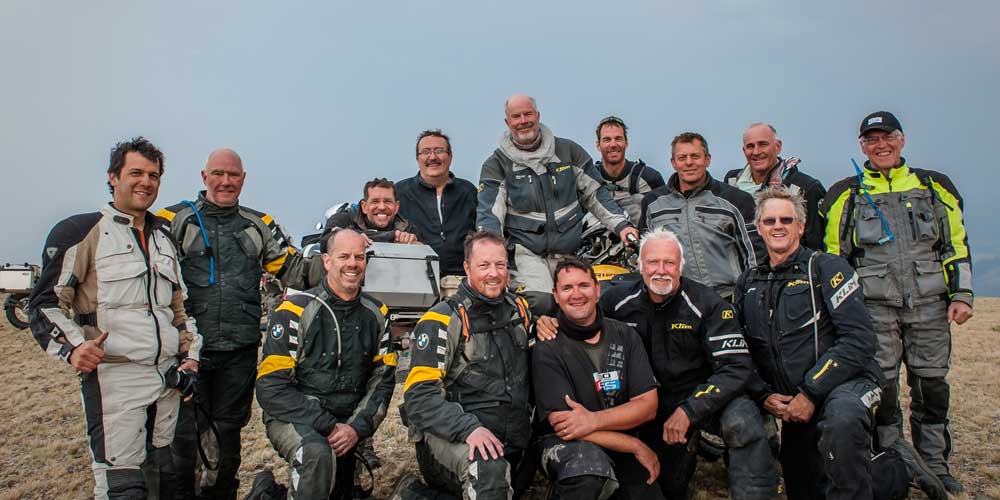 Helena to Lima, MT
We will leave Helena at 8:30AM heading for Lima. Our ride today will take about nine hours, and we'll visit two ghost towns along the way with about a half hour at each. Coolidge is an authentic ghost town, that's being allowed to decay naturally. There are a ton of old buildings still standing, but it truly has an abandoned vibe. Bannock is our second stop–it is a restored ghost town with an entry fee which is not covered in your tour price. We'll take a short break and let you have a peek at the town and we'll move on to our campsite near Lima, MT.
Length of riding day: 275 miles
Lodging: Camping near Lima, MT
Lima, MT to Moran WY via Grand Teton National Park
The day begins with departure from Lima, and we'll travel across some of the most spectacular landscape on the planet. We'll cross the Continental Divide at least twice today, maybe three times depending on the route. We'll end our day at a rustic log cabin style motel in Moran, Wyoming.
Length of riding day: 259 miles
Lodging: Hotel near Jackson Hole, WY
Moran to Atlantic City, WY
Today we will leave the lush green snow-capped Teton Mountains and move into the prairie like plains of Wyoming. The mountains will fade away as we move east on the vast plains which were home to the roving Indian tribes with names like Arapaho, Comanche, and Cheyenne.
Length of riding day: 250 miles
Lodging: Camping near Atlantic City, WY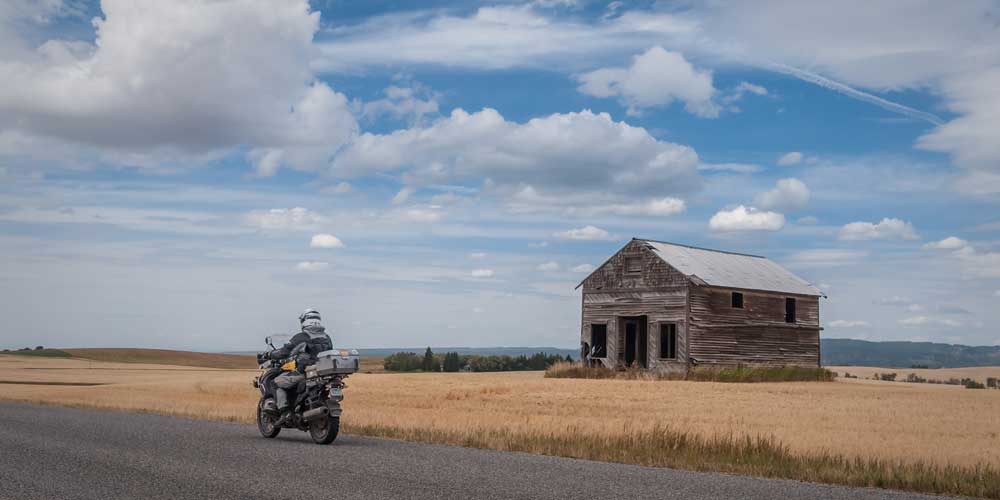 Atlantic City WY to Steamboat Springs, CO
We'll leave the plains of Wyoming to the north as we traverse through the amazing Aspen Alley on our way to the high elevation resort town of Steamboat Springs. Aspen Alley is one of the coolest sections of our entire trip as we'll ride through an avenue that is so densely lined with aspen trees that it seems a veritable wall of aspen trunks.
Length of riding day: 240 miles
Lodging: Motel in Steamboat Springs, CO
Steamboat Springs, CO to RawHyde Ranch Colorado
We ride today through the heart of the Rocky Mountains. Today we'll ride over not one, not two, but three stunning mountain passes. Beginning with a great climb up to the top of Rabbit Ears pass (on the Great Divide) then over historic Boreas Pass we ride among the "fourteeners" which is a collection of the highest mountain passes in all of North America. The mountains get the name of "fourteeners" because they are all higher than 14,000 feet elevation. After Boreas pass it's a fast and scenic run down a desolate valley to our facility.
Length of riding day: 228 miles
Lodging: RawHyde Ranch Colorado.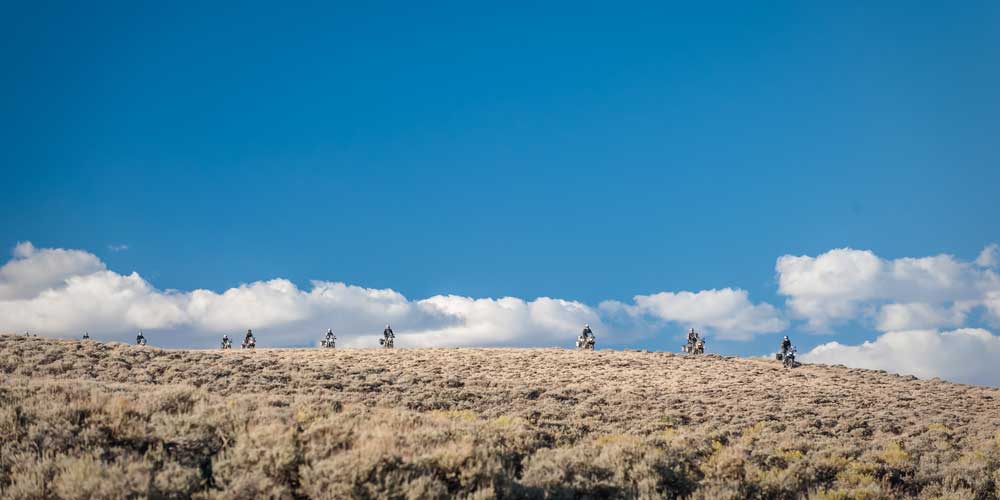 Layover day at RawHyde Colorado
You can take a day off today, or participate in a ride that encompasses three great Rocky Mountain passes as well as the historic mining towns of Tincup and Pitkin. If you'd rather have a shorter day and still get a great ride you can head for scenic Weston Pass which is less than 45 minutes from our facility. The ride over and back can be completed in about 4 hours.
Length of riding day at the max: 228 miles
Lodging: RawHyde Ranch Colorado.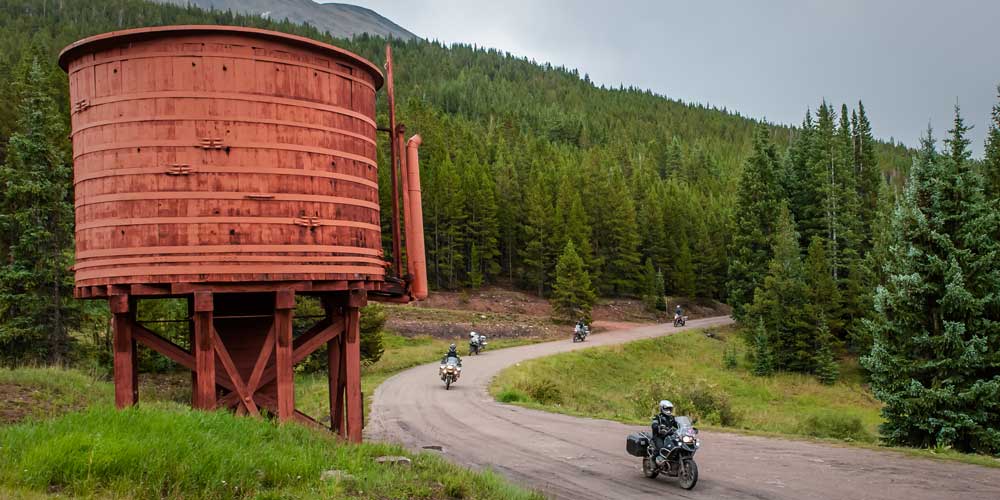 RawHyde Ranch Colorado to Elk Creek, NM
We continue south today heading through the more arid plateaus of Colorado. We are still riding in a very mountainous setting but as we get closer and closer to the New Mexico border the landscape becomes dryer. Our destination this evening is located within the Jicarilla Apache Nation. Just as an FYI the word is pronounced "Hick-ah-REE-ya."
Length of riding day: 249 miles
Lodging: Camping at Elk Creek.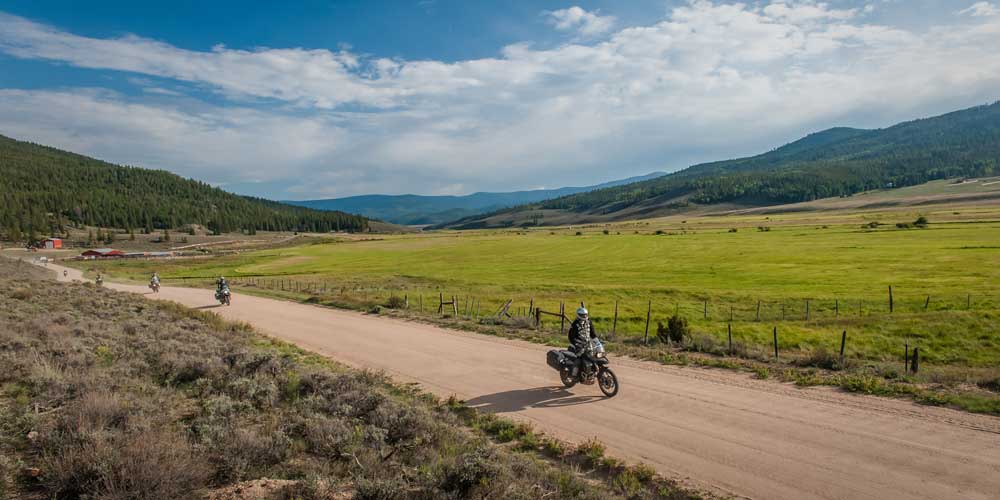 Friday Elk Creek State Park to Cuba, NM
We leave the Apache Nation today and head south into a warmer climate. Today's ride will surprise you with its diversity. Today is also your toughest day of riding, narrow rocky trails, and very technical sections await you, but mountain passes, timber country, and epic views make for a wonderful day in the saddle.
Length of riding day: 250 miles
Lodging: Motel, Cuba NM.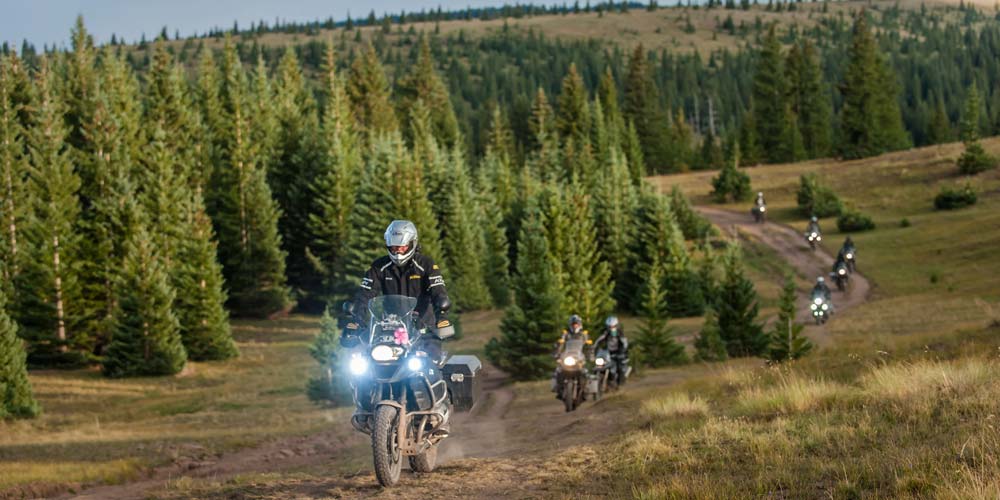 Cuba to Albuquerque, NM
Today is our last day on the trail together. We'll be riding mostly in the desert today… It will be hot so it's important to remember to drink a LOT of water today.
Tonight is party night! We'll give our Chef the night off and have a great farewell dinner at a local restaurant. We'll spend some time tonight reminiscing about the incredible adventure we have just participated in.
Length of riding day: 290 miles
Lodging: Hotel in Albuquerque.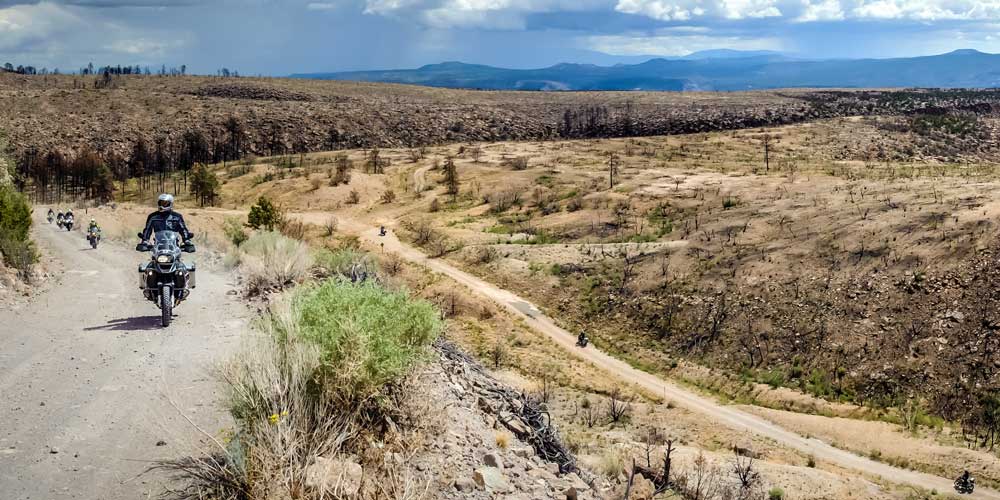 Departure
Well–because all adventures must come to an end sometime–reluctantly we say, "Vaya con dios, amigos." Our adventurer's hat gets hung up on its peg in the hallway for another time, and and we slide back into our normal lives. You'll depart Sunday morning from our hotel at your leisure.