The California Adventure
It's About Time...
...or so we've been told by many Adventure enthusiasts, that RawHyde offer another epic tour in California. The Golden State is, after all, not only RawHyde's HQ but it's also home to some of the most wonderful motorcycle riding in the world! A surprising fact about California is that while we do have a huge population (based mostly in L.A. and San Francisco) there is still a tremendous amount of uncluttered roads and amazing backcountry to explore. California has it all, an amazing coastline, a harsh yet fascinating desert, incredible national parks, and many other "must see" attractions. This along with our well known "great weather" is the main reason that so many riders find themselves drawn to California.
RawHyde's current series of California tours are primarily "off road oriented" trips centered mainly on the Mojave Desert which only scratches the surface of what California has to offer the ADV motorcycle enthusiast. California is an amazing place to visit on two wheels and many of the paved highways and byways are internationally renowned as destination rides for motorcyclists. So the question we have faced has been, quite simply: "How do we take the best of what California has to offer and create a true RawHyde Adventure?
The answer is simple… Take the best paved roads and connect them with some easy and beautiful dirt roads and stitch it all together into one amazing ride.
For months the team at RawHyde has been on a secret mission: Connect a sampling of the "Bucket List" places that everyone wants to see — Big Sur, the Pacific Ocean, Alices Restaurant, The Golden Gate Bridge, and the Carrizo Plains to name a few. Our goals were to avoid the "Interstate" and populated areas whenever possible, find the little known roads that have little or no traffic and build for our customers an epic, memorable, and unique tour.
We believe we have accomplished our mission...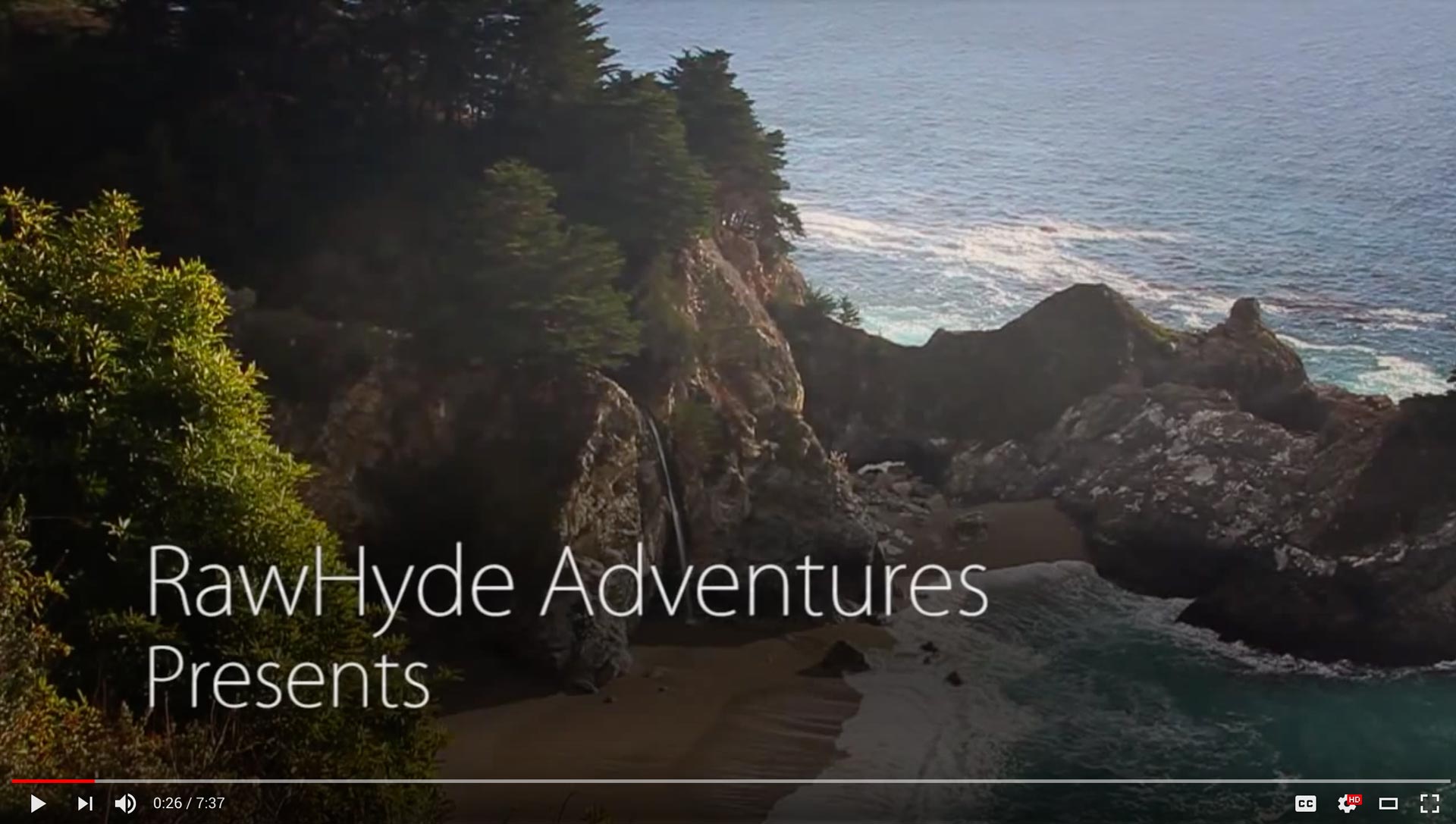 The Ultimate Adventure Tour
So – you may ask yourself – "What makes an adventure tour - Well – we know that most motorcycle tours only stick to nice paved roads. That's just the way it is… But not at RawHyde – our bikes are set up to deal with dirt roads, beat up paved roads and more. That sets the stage for an adventure… after all there is certain sense of satisfaction that comes from going where other riders don't go.
The California Adventure focuses squarely on our ability to travel long distances, both on and off-road, while enjoying the byways that conventional street bikes avoid. These are bumpy, non-maintained roads that rattle the suspension of less capable machines. These roads were all built before mammoth construction companies with massive machines created the interstate highway system, thus our chosen paths are twisty and wonderfully scenic as they wind up, over and around the mountains that have now been pushed aside in favor of long straight high speed freeways. Due to the fact that these roads are beat up and slow we'll find few other travelers on them and so we will enjoy their meandering views with virtual exclusivity.
And when we leave the asphalt, it will be to show you some rarely seen parts of areas that are so spectacular that you'll find it hard to stay focused on the ride.
The thing that separates RawHyde's tour from many other tour offerings is the "off road" part! No other tour company can or will offer such a trip due to the risk of scratching their bikes, but we don't mind because our main business revolves around "off road" and most of our bikes while brand new already have a few scratches.
Price:
$3,995 on your own bike
Rental bikes are available
Dates:
The California Adventure

schedule:
Even as natives of California, there parts of our home state that we never get tired of visiting. Of course, Big Sur and the Golden Gate Bridge are at the top of the list. But many others--The Salt beds of Carrizo Plains, the Redwood-studded Santa Cruz Mountains, the historic Lick Observatory atop the Diablo mountain range—are as breathtaking as they are obscure. These treasured sites offer unmatched history and views that only a few take the time to enjoy. These and many others will be via points throughout our journey.
Arrival on tour - You'll begin your time with us on a Sunday evening, arriving at RawHyde in time for dinner and a briefing on the upcoming week. Our chefs will serve a delicious dinner paired with an equally great wine and we'll discuss all the details of your upcoming trip.
RawHyde Ranch
Our Journey begins at the RawHyde Ranch in Southern California. After you've loaded your bags in the support truck, and had a filling breakfast prepared by our Chefs, we will leave the ranch, heading north to Cerro Noroeste Mountain. There, we will set the pace for our tour, tackling more than 30 miles of twisty, beautiful asphalt with more than a 5,000 vertical foot elevation change.
Off the mountain and taking to dirt, we will traverse the Carrizo Plains in the California Valley. Skimming along the San Andreas Fault line, we will enjoy the lush foothills and massive salt beds of Soda Lake.
After another stint of carving asphalt we will again take to the dirt, through the foothills of the coastal range toward the town of Pozo, CA, home of the historic Pozo Saloon (est. 1858). We will continue to the town of Paso Robles, where, as we roll over the coastal mountains we'll catch our first glimpse of the Pacific Ocean.
With evening drawing near, we will cruise into the small artist's colony of Cambria where we'll check into our hotel and enjoy a nice dinner, drinks, and some small town sightseeing.
RawHyde Ranch to Santa Cruz, CA
Well rested and ready for adventure, we will enjoy a hearty breakfast before setting off on the historic Pacific Coast Highway. The views are astounding as we make our way north along the rocky Coastline, enjoying sights such as Elephant Seal Beach and Hearst Castle. But don't get too comfortable on the open road. Soon we will hit a stunning dirt road atop the Pacific Mountains, drifting along the Big Sur coastline a whopping 6,100 vertical feet above the ocean. This section is one of the highlights of the trip and something that very few motorcyclists will ever see. We will return to Hwy 1 via the famed Nacimiento-Fergusson Road, a fabled stretch of asphalt (one of the top 10 roads in Cal. ) whose twists and turns are matched only by the incredible surroundings and ocean views.
Our return to Hwy 1 will be short, as once again we will find ourselves exploring the ridgelines on an epic off-road trail. We will skim along the Little Sur River, threading through vast canopies of massive Redwoods and Oaks. Our return to Asphalt will be highlighted by Bixby Bridge, the longest concrete arch span in California and one of the most photographed points in the Western US.
Continuing North, we will make our way through lush strawberry and artichoke fields, passing the famed Laguna Seca Raceway on route to Santa Cruz, CA. There we will enjoy oceanfront lodging near the historic Santa Cruz Wharf and Beach Boardwalk. Dinner and drinks await us as we celebrate the day and prepare for more adventure.
Santa Cruz to San Francisco
Our day begins with a jaunt along the famed West Cliff Drive, where we will check out the historic Santa Cruz Lighthouse and surfers paradise, Steamers Lane. From there, we will make our way through the Santa Cruz Mountains, taking on the awesome Redwood-laden twisties of Empire Grade, Hwy 9, and Skyline Blvd. We will have a BMW burger for lunch at Alice's Restaurant, the motorcyclists' mecca of Arlo Guthrie fame. After lunch we'll blast down the famed "skyline boulevard" as we return to the coast, riding through Half Moon Bay toward San Francisco. There, we will work our way toward the Golden Gate Bridge, stopping to enjoy views of the immense skyline and Alcatraz Island. Sunset will be near by the time we've seen the Golden Gate so we'll settle into local lodging and prepare for dinner and an evening on the pier in San Francisco.
San Francisco to Gilroy
If you thought the good times were behind you, you'd be mistaken. This morning we'll make our way toward Mount Hamilton, tackling what known as one of the most technical, twisty asphalt roads in the country. At its peak we will arrive at the Lick Observatory, where we will catch our breath and take in the sights and history.
Soon we will be back on the twisties, taking on 1st-gear corners overlooking Silicon Valley. Once in the valley we will continue south, skirting the eastern Santa Cruz Mountains and meandering through the historic agricultural area of Gilroy which is best known for its Garlic Festival and vineyards. Taking our time, we will check into our hotel, grab a great local dinner and try some of the local wines.
Gilroy to RawHyde Ranch
On our final day, we'll have a great mix of on and off-road travels. We will begin with a run on Hwy 25, a back-road expressway laden with dozens of high-speed turns. We will climb Parkfield Grade, switching seamlessly from asphalt to dirt and back again. We will ride along Hwy 46 at Cholame, the infamous crash site of actor James Dean. The canyons will narrow as we continue on farm access roads that carry us south toward California Valley. We will venture off-road one final time as we ride a 45 mile stretch of dirt road that follows the San Andreas Faultline. We will finish our day the way we started the trip, with a final ascent of Cerro Noroeste, returning to the RawHyde Ranch for a great dinner prepared by our chef. We'll spend our final evening reminiscing about the memories we've accumulated over the last 5 days.
Departure
Sadly – all adventures come to an end sometime. We'll share one final breakfast and reluctantly head for home, whether the RawHyde Shuttle takes you to the airport, or you jump into your rental car you'll leave with some great memories & some new friends.