Big Bikes in Baja
Rediscover Mexico
Mexico has been the target of some pretty negative press over the last few years but we'd like to challenge you NOT to take for granted what you see on television, but rather to determine for yourself what Mexico is really all about. Our impression is that Baja Mexico in particular is a safe, hospitable, congenial, fun, and incredibly interesting destination for adventure riders. There is a sense of "freedom" in Mexico that doesn't exist in the US. Because you can literally ride "anywhere" with very few restrictions. Also the food is great, the scenery is amazing, the accommodations are funky but cool, and the people are warm and inviting! So what are you waiting for–join us and find out for yourself!
We are pleased to offer you a seven day adventure through the heart of legendary Baja, Mexico! It's the home of the famous Baja 1000 off-road race and it's one of the greatest playgrounds for off-road motorcycling in the world.
This trip is about 40% off-road, 20% beat up pavement, and the rest is good pavement, but it's ALL adventurous! It's an easy to low intermediate ride from a technical standpoint. Some rocky roads, and light sand are the most challenging parts of the ride.
Your trip will begin at RawHyde Ranch in southern California on Sunday night where we'll all spend some time getting to know each other with an orientation and a great welcome dinner.
Price:
$3,495 on your own bike
$4,295 With rental of a BMW GS
(based on availability)
Dates:
February 25 - March 3, 2019
sold out
Big Bikes in Baja

schedule:
RawHyde Ranch
We'll depart RawHyde and make our way south to the Mexican border. We'll cross into Mexico at the sleepy checkpoint of Tecate, and from there it's about a 40 minute ride to our hotel. Our first night will be spent at an old bull fighters training center now turned into a moto hangout called Rancho Santa Veronica. RSV as we call it is a sprawling hacienda that harkens back to the "old way of life" in colonial Mexico. It's a safe, clean and unique way to spend our first night in Mexico.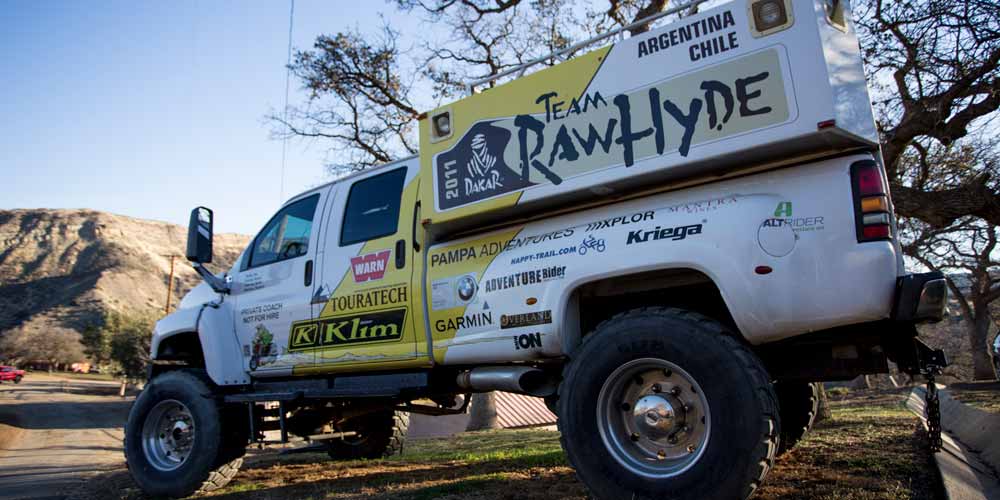 Mike's Sky Ranch
Today is nearly all off-road beginning with a 50 mile run heading south down what's known as the Compadre Trail and as we head toward the historic Mike's Sky Ranch for our second night. There is a great story to Mike's, and it's just like Kevin Costner's movie Field of Dreams where "if you build it… they will come…" and so they did to Mikes Sky Ranch! 50 years ago a guy named Mike built a 60 room motel in the middle of nowhere (seriously its 30 miles to the nearest paved road but now people come in droves to experience the remote splendor of Mike's Sky Ranch… Mike's is now legendary in Baja as it sits on the Baja 1000 racecourse and is one of the most iconic moto resorts in all of Mexico.
The coast of the Gulf of California
We'll enjoy a short day's ride to get us either to San Felipe or depending on room availability we may ride on to Gonzaga Bay on the coast of the Gulf of California. Either way our hotel for the night is right on the reflective waters of the Gulf of California and the morning sunrise over the gulf is nothing short of spectacular!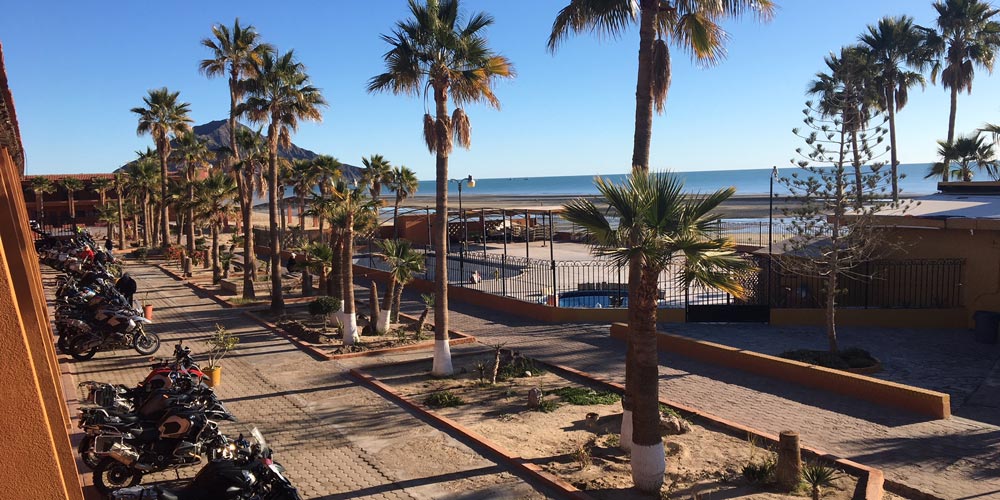 San Ignacio
This is a pretty long day as we trek from San Felipe (or Gonzaga Bay) on brand new pavement down to the iconic Coco's Corner where the pavement disappears and becomes one of the rockiest segments of the trip. Once we hit the pavement at Mexico Hwy 1 we have a couple of hundred miles to go down to San Ignacio. San Ignacio is one of three true oasis towns in Baja. Just imagine traveling for hours through the barren desert of Baja only to drop down into a lush canyon with hundreds of thousands of beautiful palm trees. Our home for the night is a hotel called "Rice and Beans"… and they make the best margaritas in all of Baja.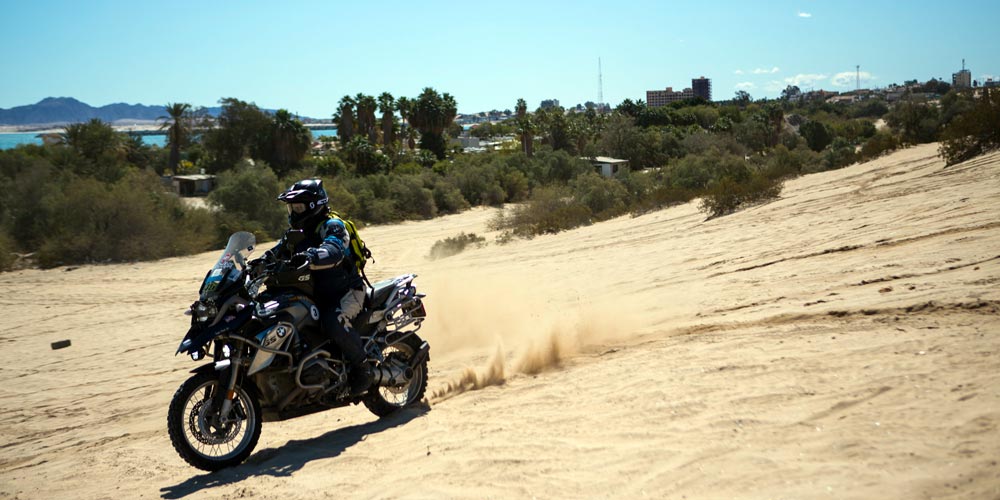 San Ignacio
This is a rest day in San Ignacio to see the whales. Truly a bucket list experience to have the gentle giants of the Pacific nudge up against your Panga and roll over to peer up at you with one tiny eye. Please see the video on this page for a glimpse of what it's really like to have the whales up close… it's simply awe inspiring.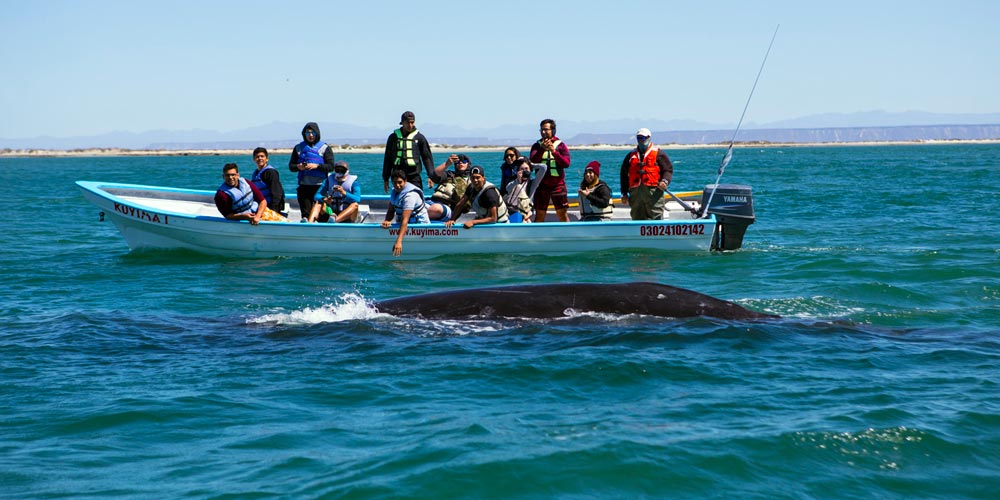 Ensenada
We begin our return to the US with a run up the Pacific coast of Baja to the beach town of Ensenada. As we ride north we may have the opportunity to partake in a unique afternoon experience and that is a chance to ride the beach. It's hard to explain just how much fun it is to go flying down the beach … grazing the incoming waves and simply enjoying the freedom of riding a big bike at the surf. Read the article to see this experience through the eyes of a journalist who recently joined us for this adventure. Our hotel for the night is a gracious and comfortable newer property in the heart of Ensenada.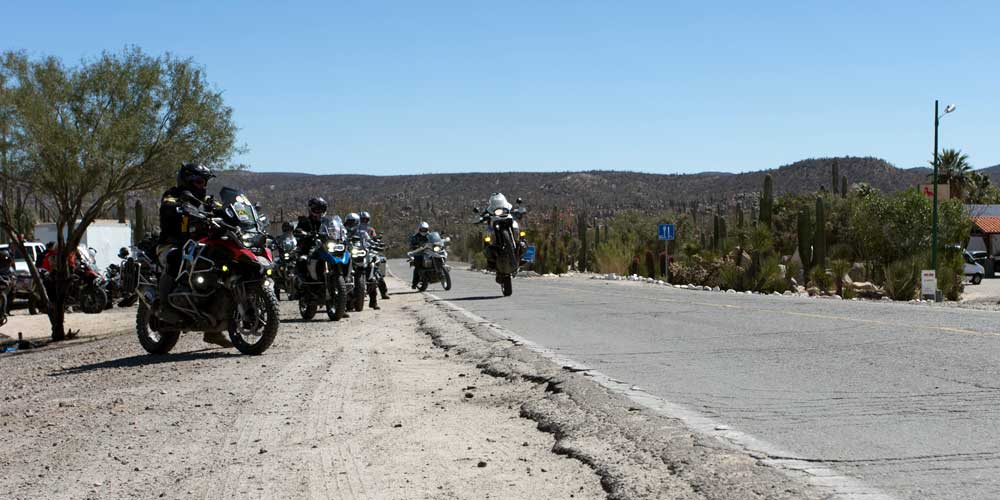 RawHyde Ranch
Our final day is a pretty long day as we have to return to the US today and make the run up to RawHyde! Our route today will take us north through Baja's wine country toward the same border crossing we used as we entered Mexico. Once we're back on US soil we'll head for RawHyde... and if all goes according to plan we'll roll into RawHyde Ranch about 6:00 PM.