Continental Divide Ride South America
The Continental Divide Ride - South America
The bucket list of "must do's" in South America
RawHyde's Continental Divide Ride South America is a 2400 mile ride through 4 remarkably different countries which all share a single incredible geologic feature – The most influential mountain range in the world; - The Mighty Andes!
The Andes form the Continental Divide of South America, and in turn create two of the most extreme climates on earth. The Amazon River basin and jungle on the east side - and the Atacama Desert to the west. The Amazon is the largest river on earth… and the Atacama is the driest desert on earth… all created by the Continental Divide of South America.
We have an amazing itinerary for you to enjoy as you travel from the UNESCO world heritage city of Cusco, Peru to Mendoza, Argentina. Along the way you'll have the chance to cross the Andes at elevations over 16,000 feet, you'll ride the famous "Altiplano" and the Salt Flats of Bolivia…. And you'll have a chance to conquer the infamous "Death Road" of Bolivia. Its an amazing trip that embodies the essence of "Adventure Riding" – below is the itinerary for our 2017 CDR South America.
Plus a delivery and drop charge.
Dates:
RawHyde
The Continental Divide Ride - South America

schedule:
Cusco, Peru
You'll arrive today into Cusco, Peru which is both a Spanish colonial city, and a World Heritage venue. You'll be transported to your hotel for dinner and a chance to begin getting to know your traveling companions.
Cusco to Ollantaytambo
Cusco to Ollantaytambo. You'll be assigned your motorcycle this morning and after that you'll have the morning to Explore Cusco and then in the afternoon you'll depart for Ollantaytambo (the jump off point for Machu Pichu) and on your way you'll ride through the incredible "Sacred Valley of the Incas"
Macchu Pichu
You'll take the train to Macchu Pichu. This is an all day excursion to one of the most incredible places in South America. Machu Pichu needs no introduction, but as a UNESCO world heritage site its one of the most celebrated places to visit on the entire planet.
Ollantaytambo to Puno
We'll leave Ollantaytambo early with the goal of arriving at the amazing Lake Titicaca in time to take a shuttle boat out to the floating islands. Yep – that's right… Islands that actually float and have small villages on them. Click here to learn more about them.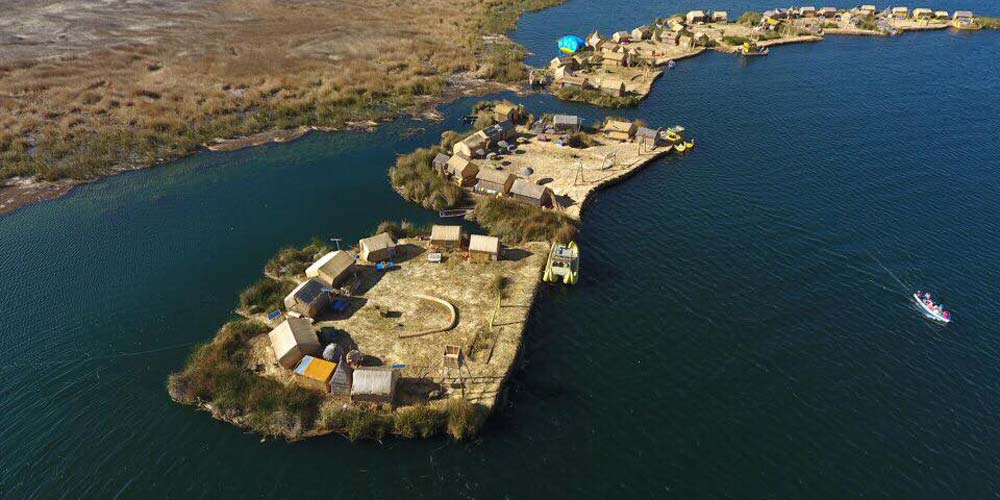 Puno - La Paz
Today is sure to be a memorable one as we cross the border from Peru to Bolivia. Bolivia is South America's poorest country and you'll begin to understand that as you enter the country at the border checkpoint. Leaving Peru and entering Bolivia is like riding from a color TV into a black and white TV. There is no color in the buildings… there is nothing in the way of bill boards or neon signs… most of the people ride bicycles and there are few of the comforts that we've become used to in our lives. Nonetheless – Bolivia is truly an amazing place to ride and explore.
Free day in La Paz
Free day in La Paz. Today you have two options… The first is to relax and stay at the hotel, and wander La Paz (One of the two capitals of Bolivia) Oddly – Bolivia has two capitals. You can learn a bit more here.
Option 2 is to ride one of the greatest "Adventure Roads in the world – The Death Road. Its about a 2 hour ride from La Paz to the jump off point for the Death Road, and then it will take about 4 hours to ride the Death Road. Our support truck will go with us today and we'll have a great picnic lunch at one of the incredible viewpoints along the road. We'll head back to our hotel after we conquer the Death Road, because we need to get to bed early since tomorrow will be a long day.day will be doing the death road.
La Paz to Uyuni
Today is a long day – of nearly 700 kilometers. Much of the road is paved although we'll take a short cut across the desert to shave a few miles toward our goal of Uyuni.
Uyuni sits at the edge of the famous salt flats of Bolivia, and riding the salt flats is one of the most unique things you'll do on the entire trip. Your hotel tonight is Hotel del Sal. An building made entirely of salt. Yep – that's right – a hotel made entirely of salt. Its pretty unique. An interesting fact about the salt flats – nearly 30% of the worlds supply of lithium lies beneath the salt flats… and Bolivias government is currently evaluating bids from around the planet to exploit the lithium. I'd say that Bolivias status of South Americas poorest country is about to change.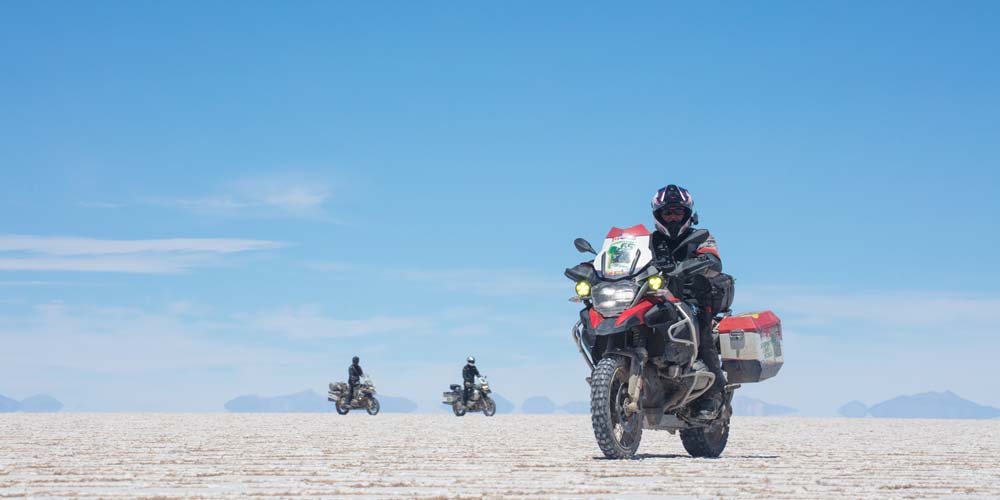 Uyuni to San pedro de Atacama
Today is the longest day of the trip because there are simply no places to stop along the way. We need to leave Uyuni early today and we head for San Pedro de Atacama. Today also provides your biggest altitude change so far on the trip, as you'll drop from 13,000 feet to nearly Sea Level in a single day. Today will be a 10 to 12 hour riding day because there simply is no place to stop along the way. The views along the way however are spectacular as you drop from from the top of the Andes into the world renowned Atacama Desert. ( a quick fact is that it has not rained in the Atacama desert in recorded human history!
Resting day in San Pedro
After yesterdays tough ride you'll be happy to sleep late today … but not too late, because SPDA is an awesome town. It's a true oasis in the heart of the driest place on earth. There are a ton of things to see and do – plus a really great shopping area for locally made souvenirs. Hand made rugs are a very popular thing to get here and the local artisans weave their name and date into most of the rugs to authenticate the rugs.
San Pedro de Atacama to San Antonio de Los Cobres
Today will begin with a run up to the top of the Andes again, followed by the border crossing into Argentina. It will take a couple of hours to get across the border and once done there you'll hit the "mother road" of Argentina. Its called Ruta 40 and it's the original road that went from Bolivia to Ushuaia. Ruta 40 is mostly dirt and this afternoons ride is simply gorgeous. Ruta 40 will dissolve into a very narrow road over time and you'll pass through towns and villages that time has forgotten. Llamas will dot the landscape and tonight you'll come to your hotel in the gritty mining town of San Antonio de Los Cobres.
SA de los Cobres to Cafayate
Todays ride is spectacular as you'll have the chance to ride over one of the highest mountain passes in all of South America. Less than two hours into your ride today you'll ride over Passo Abra del Acay at an elevation of 16,300 feet. The view from the top is nothing less than astounding. You'll continue your days ride on Ruta 40 and end in the awesome town of Cafayate. Cafatyate has a great vibe and its well worth wandering about town for a while after dinner.
Cafayate-La Rioja
Today your ride takes you south along Ruta 40 again, and you'll soon find the road renaming itself to the Ruta del Vino as you enter the up and coming wine district near La Rioja. Its kind of refreshing cruising on dirt roads alongside opulent vinyards. You'll end the day in La Rioja. (which is always along the route of the Dakar Rally – be sure to ask your guide for some Dakar stories from this area)
La rioja - San Juan
Today you continue south through the heart of the Ruta del Vino. This part of Argentina is less mountainous and you'll find the scenery changing from a desert like landscape to rolling hills covered in scrub brush. The scenery is great – and you'll see many large "Estancia's" (Argentine for Ranches) as you pass by. The day ends in San Juan which is a lovely colonial town embedded inside a large oasis. Be sure to have some wine with dinner tonite because San Juan is known for both its Viognier and Syrah blends.
San Juan
You'll wrap your riding in Argentina on a high note today as you'll find the scenery to be spectacular. Narrow canyons with rivers … a series of mountain passes, twisty roads and yes – more vineyards. Tonight you'll wrap your tour up at a private winery / Hotel that is simply outstanding.
Travel day - depart from Mendoza